Young Talent Will Shine At Pan Am Games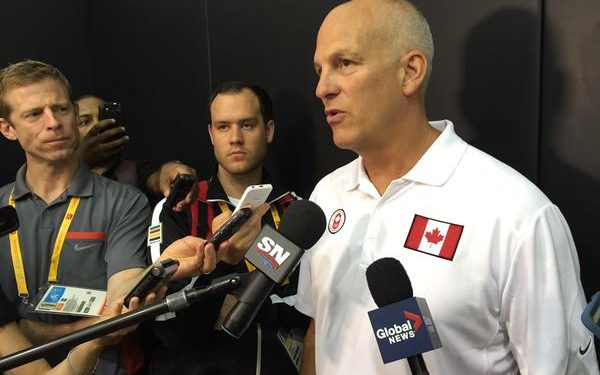 For complete coverage of the Canadian men's and women's teams at the Pan Am Games follow@devingray33 on Twitter and keep posted to North Pole Hoops!
Canada's core group of young NBA-level talent has been on the come-up for years and will soon be assembled.
Just not yet.
With NBA Summer League play just ending in Orlando and just beginning in Las Vegas many of the young players are obligated by their NBA teams to participate.
Several other players including Andrew Wiggins and Kelly Olynyk were told by their teams that they could represent Canada Basketball once this summer – leaving little choice with the Olympic qualifiers at the FIBA Americas Championship coming at the end of August.
Contract negotiations with free agents like Cory Joseph and Tristan Thompson have also left players on the sidelines.
"I think everybody's going through the same thing," national team head coach Jay Triano told media after the team's first practice. "We have a bunch of players playing in NBA summer league right now, we can't take away guy's opportunity to make a living and earn a job in the NBA so we have to give them that."
Giant post presence Sim Bhullar arrived in Toronto via Vegas, Sacramento, and India, just in time for camp after what has already been a busy summer, and echoed Triano's #basketballneverstops message.
"I got in on a red-eye yesterday morning," Bhullar said. "Everybody's having a busy summer travelling and working out and it's just part of the grind and you've got to make sure you're taking care of your body and getting ice, recovery and stretching. I feel ready to go."
Bhullar is still considered one of the youngsters on the team, and he along with Anthony Bennett and Andrew Nicholson represent Canada's NBA talent on the Pan Am roster and will be asked to carry the biggest load for the team.
It's a potentially career-changing opportunity if they seize it. Many players have used their active summers with their national teams to hit the ground running in the NBA season.
"This is hopefully going to be an opportunity for them to take their game to another level, gain confidence and have them enjoying basketball where they can play without fear, without doubt," said Steve Nash. "I've seen a lot of players springboard themselves into a confident, more whole player."
Triano agrees, having once witnessed similar leaps from Nash himself: "Our goal is to be as good as we can but if we can transform someone's career then that bodes well for our program."
The NBA players on Canada Basketball's men's roster will have to step up in a few ways – as offensive linchpins, as spokespeople for Canadian basketball talent, and as leaders for the young group of players accompanying them.
A deepening talent pool coming from U16, U19 and Development Team talent are increasingly on the same page. The past four years have been spent implementing the same systems and philosophies at all levels of the program.
This means when players like Jamal Murray and Dillon Brooks play for the senior men for the first time they already have experience with the culture, defence, sets, rotations and style of play.
"We started with a pool of 30 players we can draw from who are familiar with the system," said Triano. "While others can chase dreams of playing in the NBA or some guys are restricted by their NBA teams not wanting them to have too taxing workload during the summer months."
If the transition proves easy for the young guns it could even place them back into action later this summer as Canada Basketball will still have spots to fill on the FIBA Americas roster.
"This may be an audition for five or six players to see if they could make the team that will try to qualify for the Olympics later this summer," said Triano.
Men's basketball at the Pan Am Games tips off July 21, 2016 at 6PM EST against Dominican Republic.