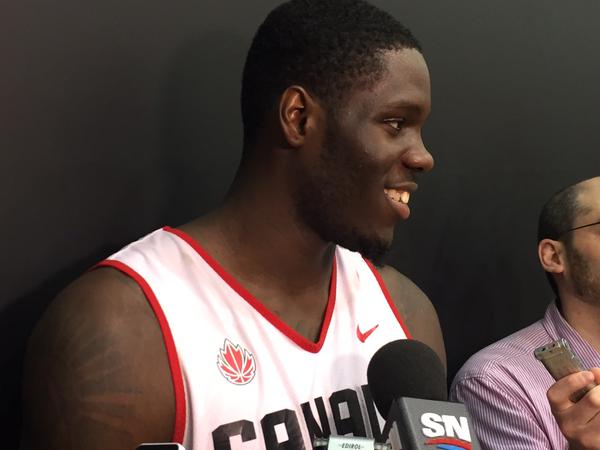 Senior Team Canada
Team Canada
Top 10 Team Canada Quotes
For complete coverage of the Canadian men's and women's teams at the Pan Am Games follow @devingray33 on Twitter and keep posted to North Pole Hoops!
With days to go before Canada Basketball's women's and men's teams take on the Americas at the Toronto 2015 Pan Am Games, NPH got the chance to catch up with the stars of the show after a pair of practices at the ACC.
Both the men and women are excited to play in front of a home crowd and can feel the buzz building already through the city.
Here are the top 10 emotional, funny, and candid thoughts of several key members of the Canada Basketball men's and women's teams.
10: Anthony Bennett – Men's Team Power Forward, on the process;
"We've been on the come-up. Everybody has been doing their part and putting in work on all different levels. It's just a chance to really show what we've got."
9: Natalie Achonwa – Women's Team Forward, on Canada Basketball;
"Canada Basketball isn't a one-time thing, it's something you develop through and invest in it because they invest in you. It's going to be motion, quick play, and if you like good team basketball you come and watch us."
8: Kim Gaucher – Women's Team Forward, on being idolized by a young Natalie Achonwa;
"Damn it that makes me really old doesn't it?"
7: Steve Nash – Men's Team General Manager, on International play;
"The international game is a lot more physical, a lot more hand and body contact, and chippiness and you have to be mentally and emotionally strong to handle that as well"
6: Sim Bhullar – Men's Team Centre, on International play;
"I love playing defence, that's what I do and especially when there's no three in the key it's going to be like college again, blocking shots left and right."
5: Lisa Thomaidis – Women's Team Coach, on the schedule;
"The schedule is going to favour a team that has some good depth and that certainly plays into our favour. I think they'd take five games in five days over five practices in five days."
4: Jay Triano – Men's Team Coach, on Sim Bhullar;
"There's big centres, then there's guys that are 7-5. I want to see somebody stop that guy when we put him under the basket."
3: Jay Triano – Men's Team Coach, on Carl English
"We need to get him here so if anyone can do anything about the weather in Newfoundland that would be great because they've been fogged in for two days straight."
2: Natalie Achonwa – Women's Team Forward, on her WNBA experience;
"In terms of what it does for me here it means nothing. When we play against Argentina think they're going to be like 'oh, you're the rookie of the month in the WNBA?' no they're not. I don't expect them to either."
1: Nash and Triano on Development;
Nash: "This is hopefully going to be an opportunity for them to take their game to another level, gain confidence and have them enjoying basketball where they can play without fear, without doubt. I've seen a lot of players springboard themselves into a confident, more whole player."
Triano: "Our goal is to be as good as we can but if we can transform someone's career then that bodes well for our program."