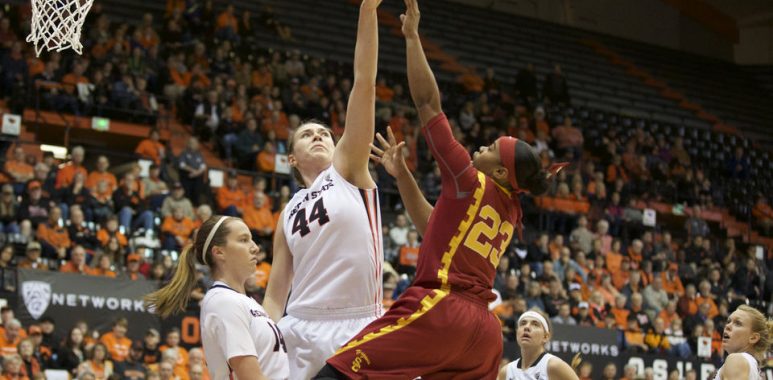 Ruth Hamblin Highlights Canadian NCAA Women Award Winners
Just like our Canadian men in the NCAA our ladies also racked up some awards.
Our Canadian lady ballers have been honored with either a conference or national award and it may be the best year to date. We count 13 players that have been named to an all conference team and some of those have earned national honors as well.
A complete list of awardees right here…
Ruth Hamblin, Oregon St – PAC-12 Conference Player of the Year, PAC-12 Defensive Player of the Year, PAC-12 Coaches Player of the Year, PAC-12 Coaches Defensive Player of the Year, Associated Press All America Third Team
Jamie Weisner, Oregon St – PAC-12 All Conference Team, PAC-12 Coaches All Conference Team
Nirra Fields, UCLA – PAC-12 All Conference Team, PAC-12 Coaches All Conference Team
Taryn Wicijowski, Utah – PAC-12 All Conference Team, PAC-12 Scholar-Athlete of the Year, coaches honorable mention all conference, coaches honorable mention all defensive team
Megan Smith, Robert Morris – Northeast Conference All Rookie Team
Mikalah Mulrain, Robert Morris – Northeast Conference All Rookie Team
Adut Bulgak, Florida St – All Atlantic Coast Conference First Team, Associated Press honorable mention All America
Victoria Rampado, Niagara – All Metro Atlantic Athletic Conference Second Team
Megan Lukan, Green Bay – All Horizon League Second Team, Horizon League All Defensive Team
Kim Pierre-Louis, Massachusetts – All Atlantic 10 Conference Second Team, Atlantic-10 Conference Most Improved Player
Kaylee Kilpatrick, New Hampshire – America East All Defensive Team
Cassandra Brown, Portland – All West Coast Conference Second Team
Emma Wolfram, Gonzaga – West Coast Conference All Freshman Team
Kia Nurse, Connecticut – American Athletic Conference Freshman of the Year, All AAC Third Team, AAC All Freshman Team