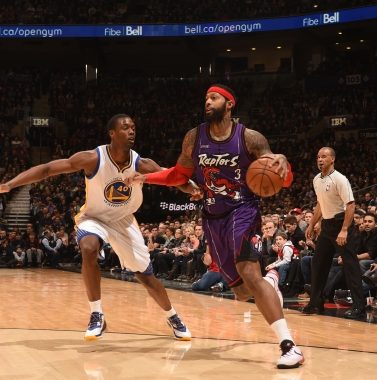 Raptors Wrap – Rested & Ready
Life Without Lowry
Last Friday's loss to the Golden State Warriors was every kind of lopsided. Nothing was going right for the Raptors who put up season lows in first quarter (11) and first half (31) points.But it was Kyle Lowry's play that was particularly disheartening. Lowry looked tired, and this whirlwind season of team and personal successes has undoubtedly played into his fatigue.
At one point in the second quarter Lowry left down the tunnel with trainers and assistants, before returning to the bench wearing blue gloves and putting pressure on his hand as if testing his pain threshold. Classic "upper-body injury" in hockey parlance.
"It's a concern just because it's fatigue-driven," said Dwane Casey at his post-game presser. "He's got aches and pains that are bothering him. We're going to find out a way to get him some rest, and get him healthy."
And when Raptors staff opened the locker room for media, Lowry was nowhere to be seen. He's since missed the past three games against the Knicks, Sixers, and Cavs for what the team has called "rest," and will return in Friday in Charlotte.Lowry's taken the burden of the team on his shoulders this season, starting 58 games and averaging 34.6 minutes while taking a career-high 15.2 shots. With the rock in his hands more thanks to DeRozan's 21-game injury absence, and the Raptors holding a lofty spot in the Eastern standings, Lowry earned his first career All-Star nod and didn't get the nine-day rest like the rest of his Toronto teammates.
He has also partnered with Sport Chek and adidas, banking on his newfound fame as the face of the red-hot Raptors, with enough social clout to earn voters' All-Star approval. He's a brand now, and this is just another direction he's being pulled in the most ambitious year of his professional career.
Let's see if the rest can perk him up for Toronto's final 21 games.
James Johnson and Physical Identity
One thing the Raptors have struggled with lately is consistency, and building a style of basketball they can fall back on regardless of matchups.
A more physical approach will help Toronto's toughness come playoff time, and it's something the fans can get behind too. Just witness Hansbrough's near-fight, and Valanciunas pulling LeBron to the floor – the ACC went bonkers for both dust-ups.
The Raptors' best harbinger of this brand of basketball is James Johnson who can use his size and quickness to match up with opponent's top scoring threats, and get to the basket on offence.
Since returning to the lineup February 6, Johnson has shot an absurd 68%. The most efficient NBA player this season has been DeAndre Jordan at 71% with Tyson Chandler second at 67%. Johnson's stretch is impressive among a team quickly becoming known for midrange chuckery.
And if you dig deeper advanced stats show Johnson's post-ups have been among the League's most efficient, even though only 10% of his possessions come in post-up position. Even more impressive, he's top-five in the NBA in points per possession coming off picks where he rolls to the basket.
Feed James Johnson on offence in situations where he can succeed, and feed off his strength and energy on defence.
Eastern Challenge
Toronto started a blistering 24-7, but have gone 14-16 since December 28th – a worryingly long stretch of mediocrity.
Lost six of their last seven games and slipping into even territory with solid squads from Cleveland and Chicago. The Raptors feel the need to bring Lowry back, but also pace themselves to not limp into the playoffs.
They're also still walking the thin line between lending time to the development of the young players, and loading minutes to veterans to win now and maintain playoff seeding position.
The positioning is key, and the coming road trip could determine if they're a team falling off or if they can really jockey with the Bulls and Cavs.