Cory Joseph: "When My Name is Called, I Go Out and Give it 100"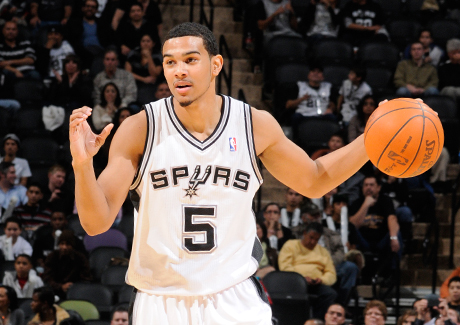 For as long as we've been tracking Cory Joseph (since his days at Pickering High), the 6'2 lead guard has developed a strong reputation for winning.
When the San Antonio Spurs were donig their research for the 2011 draft, management was well aware of his pedigree.
Just a winner…that's all he knows.
In game five of the Western Finals, Joseph came off the bench to provide some inspiration in the form of what many are saying was the play of the series against OKC.
In game six, Tony Parker was out of commission in the second half due to sore ankle, which allowed for Joseph to start the second half.
"I just try to stay ready…basically this whole year or whenever in the playoffs, whenever my name is called, I just try to go out there and give it 100," Joseph told KSAT.com
In seven minutes of play, Joseph scored two points, dropping Russell Westbrook, and following up with the pull-up mid-range jumper.
Fellow reserve PG Patty Mills received 18 minutes, and was scoreless but productive– two rebounds, two assists, three steals.
With an intense championship series ahead against the Miami Heat, and Parker nursing his ankle, CJ's name could be called once again.
And as he has proven time and time again…he will be ready.
Cory Joseph and San Antonio defeated OKC to reach their second straight NBA Finals.
Game 1 of the NBA championship series, tips Thursday, June 5, between Miami and San Antonio.