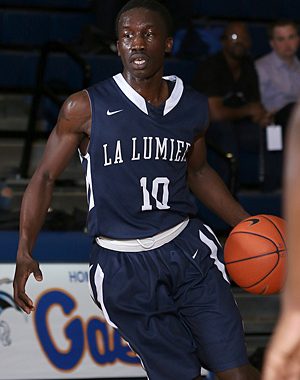 Munis Tutu Set for Break out Summer
An instinctual attribute that you cannot teach is "feel for the game" –developed from a combination of experiences throughout one's career.
From the first time that I saw Munis Tutu at the #NPHShowcase in Windsor, I knew he was special due to this intangible trait which distinguishes him as a point guard, and overall basketball prospect.
Tutu's feel is tremendous on both ends of the floor. Offensively, the decisions he makes come natural; whether it be a bounce pass from half court, a skip pass against a zone, or an attack to the basket with body manipulation….he does it with fluidity.
The same is true defensively, as Tutu uses graceful foot speed, length and quick hands to cover ground and pester the opposition.
We at North Pole Hoops have him as the highest ranked point guard in the country for the class of 2015 and #3 overall behind Montaque Gill-Caesar and Dillon Brooks.
Tutu is fresh off a productive year under Coach Alan Huss and the Nationally-ranked La Lumiere Lakers, after earning the starting role early in the season.
"He learned how to run a team; he took a two man race and made it a one man race for the starting point guard position," Huss told NPH.
Tutu ran a talent-laced squad, playing his role to perfection by managing an offense, displaying leadership, while averaging a 4:1 assist-to-turnover ratio.
Huss also spoke highly of the way Tutu defended opposing point guards all year.
The transition game is where Tutu typically thrives, however at La Lumiere he has evolved into a multi-dimensional floor general, now completely comfortable in the half court set.
We had a chance to catch up with the young lead guard recently at the Dick's National High School tournament in New York where his Lakers lost a tough one to Huntington Prep, registering six points, three rebounds and seven assists in the loss.
As he enters the summer circuit with Association Canada Elite, expect the Windsor, Ontario product to continue building his stock with flat out production.
Tutu will be in Toronto for CYBL session #2 at Centennial College this weekend, where the GTA scene gets a glimpse of what we've been talking about for the last two years.
Munis Tutu, NPH #1-ranked point guard in the Canadian class of 2015 will be out this summer to prove he's the best in North America.