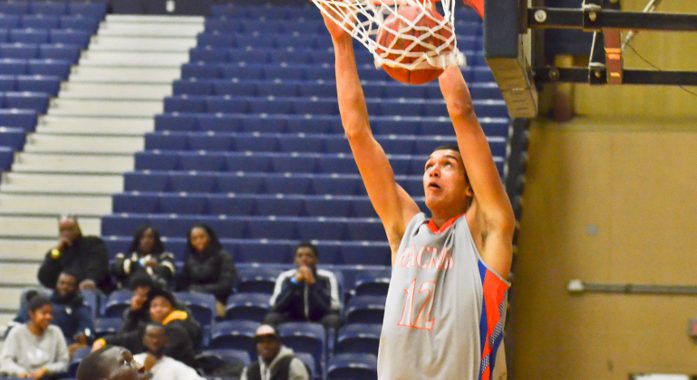 Nolan Narain Set For Next Season At La Lumiere
The rate of development for a "big man" in basketball is entirely different from that of a guard or a wing. Bigs take time to grow into their bodies and become coordinated with their size. Hamilton's top high school basketball prospect Nolan Narain has turned the corner this year and was very productive for the Sir Allan MacNab Lions all the way into OFSAA Provincial Championships. As of next year, Narain will be transferring to suit up for La Lumiere (Indiana) and add size to a young and very skilled team that finished their season as the 5th ranked team in America according to USA Today.
In what's considered the deepest Canadian class of prospects, Nolan has positioned himself at number three in 2016, only behind Athlete Institute's Jamal Murray and Findlay Prep's Justin Jackson.
The strides that Justin Jackson has taken since being in Toronto have been clear, as we got to see it all last week in New York. Expect much of the same from Nolan Narain, who will be under the tutelage of Coach Alan Huss.
Over the course of this past season, Nolan has owned up to his projection. His timing for blocked shots, added moves to his offensive arsenal and a new found level of aggressiveness have helped develop a package that will be very effective against American competition.
"I'll be exposed to tougher and stronger competition and also be around more competitive guys like myself. I also think by making the switch it'll give me more of an opportunity to work on building my strength and skill set."
There are certain things that will be missed from his experience at MacNab. Head Coach Dwayne Washington has been a positive factor in Narain's development and maturity as a player.
"Coach Dwayne has been great with helping me develop my all around skills. He has taught me that intensity combined with focus and hard work will lead to success."
Norain continued, "When being around such an intense and passionate coach, his intensity really rubbed off on his players."
The two will be together for another season of AAU ball during this spring and summer with UPlay. Prior to entering his first season at La Lumiere, Norain will likely garner interest and add offers to his list. North Florida and North Carolina at Charlotte have been the first to jump in the mix.