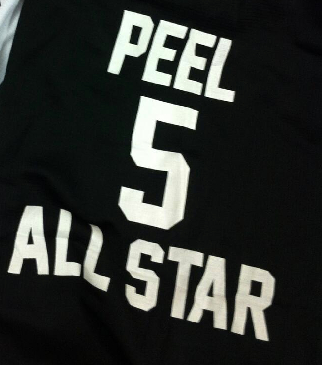 2014 Peel All-Star Rosters Released
Every year, Coach Louis Pahis of Brampton Centennial hosts the Peel All-Star Game at Sheridan College featuring the top talent in the region.
Last year, Michael Aseomota was a major standout in the junior game, among other; the same guy that hit the buzzer beater for Notre Dame at OFSAA to secure the bronze.
This year, he will be playing in the senior All-star game which features accomplished high school players over the season, mixed with under-the-radar names.
At the junior level, @NorthPoleHoops is already familiar with several names, while interested in discovering more young talent.
"Every position seems to have a strong representation this year. In year's past there have been alot of dominant guards," explained Pahis.
"This year kids are more versatile as they can play multiple positions and there are good point guards, shooting guards, and forwards"
Alumni of this event include Anthony Bennett (Cleveland Cavs, NBA), Manny Sahota (Cornell/ UofT, NCAA/CIS), Jahmal Jones (Ryerson, CIS), Nick Madray (Binghamton, NCAA), Matthew Taylor (NMSU, NCAA), Daniel Tulloch (York, CIS), Denzell Taylor (Old Dominion, NCAA), Marko Pirovic (Maine, NCAA), Kedar Wright (UBC, CIS) and Donnovan Hastings (Long Beach St, NCAA) to name a few.
The following are full rosters for both Junior and Senior All-Star games.
JUNIOR WHITE TEAM
Luka Bassem Badie 10 6'1" F Loyola
Tariq Bakri Hamad 9 5'3" PG TL Kennedy
Arshjyot Judge 10 6'2" F Sandalwood
Phaul Peralta 9 5'9" G St Augustine
Oshay Maxwell 10 5'10" G Notre Dame
Oge Nwoko 10 6'0" F St Joseph
Keshaun Saunders 9 6'4" G/F St Edmund Campion
Clythus Griffith 10 5'11" G St Joseph
Deon Ejim 9 5'11" G St Marguerite d'Youville
Isaiah Cromwell 9 6'2" G Loyola
Atik Gilao 9 6'5" F Fletcher's Meadow
Adnan Begovic 10 6'6" F St Francis Xavier
JUNIOR BLACK TEAM
Justin Estalilla 9 5'10" G St Joan of Arc
Helgi Jacobson 10 6'0" SG Ste Famille
Caleb Castantine 10 5'11" G Loyola
Kevin Ofori 10 6'3" G/F St Marguerite d'Youville
Farid Abinah 10 5'10" G Cardinal Ambrozic
Sean Miller-Moore 10 6'3" F St Augustine
Terell Omoregie 10 6'0" F Notre Dame
Jon Kasongo 10 6'0" G St Roch
Jahmari Bernard 10 6'0" G St Francis Xavier
Rasheed Weeks 10 6'4" F St Francis Xavier
Adrian Noel 10 6'3" F St Augustine
Kareem Elliott 9 6'1" F Cardinal Ambrozic
TOP 24 SENIOR BLACK TEAM
Omar Shiddo 11 6'1" PG Castlebrooke
Jemol Edwards 12r 6'0" CG Brampton Centennial
Christien Gould 11 6'1G St Marguerite d'Youville
Keenan Danso-Dapaah 12 6'3" SG St Marcellinius
Freddy Ibrahim 12 6'2" PG Father Goetz
Nicholas Campbell 12r 6'1" SG Brampton Centennial
Marcos Clennon 12r 6'6" F Father Goetz
Curwin Elvis 12r 6'0" CG St Edmund Campion
CJ Bennett 12 6'3" CG St Edmund Campion
Travis Thomas 12 6'3" G Mayfield
Ovie Eyamaro 12 6'6" SF St Marguerite d'Youville
Frank Ageymang 12 6'6" F Notre Dame
TOP 24 SENIOR WHITE TEAM
Jordan Martin 12 5'11" PG St Marcellinius
Trevon Mollison 12r 6'0" PG Notre Dame
Marcus Anderson 11 6'2" PG St Edmund Campion
Theodore Thomas 12 6'2" SG Ascension of Our Lord
Jacob Tosomba 12r 6'0" SG Ascension of Our Lord
Justice Ofori 12r 6'3" SF Brampton Centennial
DamiAnn Prehay 12 6'5" SF St Marguerite d'Youville
Michael Asemota 11 6'3" SG Notre Dame
Ignas Slyka 11 6'4" CG Ste Famille
Therren Shelton-Szmidt 10 6'3" SG Loyola
Michael Kayeye 12r 6'3" CG Ascension of Our Lord
Emmanuel Ansah 11 6'4" SF St Francis Xavier
————————————————————-
Peel All-Star Game Info
– Wednesday April 9 at Sheridan College (Brampton Campus)
– 6 pm-JUNIOR game (24 players)
– 8 pm-SENIOR game (24 players)
CONTACT:
Louis Pahis, Brampton Centennial
(905) 451-2860 x453
elias.pahis@peelsb.com