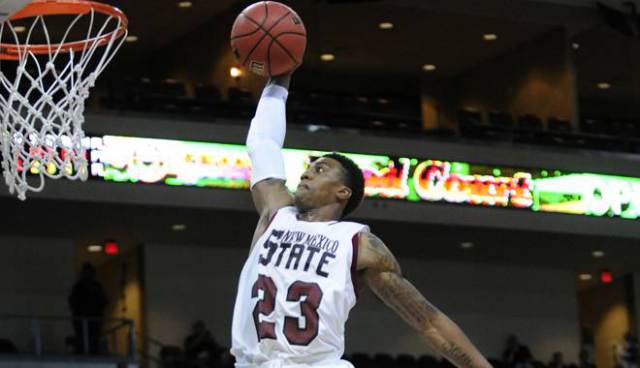 Daniel Mullings & NMSU go for 3rd Straight NCAA Appearance
It doesn't get much better than a Saturday jam-packed with NCAA basketball action, with stakes at an all-time high.
And if you're looking for the Canadian flavour, the boys did not disappoint as many moved forward in their respective conference tournaments.
St Bonaventure VS Saint Joseph's – 1:30 PM ET – A 10 Semi-Final
Matthew Wright (Toronto, ON) and St Bonaventure pulled off the biggest upset  thus far in conference tournament play, defeating #18-ranked Saint Louis who hold the #1 spot in the Atlantic-10 Conference. The Bonnies now take on Saint Joseph's (22-9) in the A-10 semi-finals. SBU is 2 wins away from making it back to the big dance. The last time they were apart of the madness was in 2012 when Andrew Nicholson carried them to their first appearance since 2000.
#8 Michigan VS #24 Ohio St – 1:40 ET – BIG 10 Semi-Final
Nik Stauskas (Mississauga, ON) and #8 Michigan squeezed by Illinois on a game-winning assist by the Canadian kid, entering conference semi-finals against #24-ranked Ohio St. The Wolverines have already booked a spot to the NCAA tournament with their impressive season resume, however capturing the coveted BIG 10 championship would help UM make a great case for a #1 overall seeding.
#14 Creighton VS Providence – 8:30 PM ET – BIG East Final
All-American Doug McDermott, starting PG Jahenns Manigat (Ottawa, ON) and Creighton have their eyes set on a BIG East championship tonight as they take on Providence. McDermott put on an offensive display with 32 points to power past Xavier in the semi-finals 86-78.
#16 Iowa State VS Baylor – 9:00 PM ET – BIG 12 Final
Clear your schedule. This will certainly be the game of the night. 4 Canadians featured here in the championship of one of the strongest conferences in America, including BIG 12 player of the year Melvin Ejim.
Plus Naz Long, Brady Heslip & Kenny Chery.
New Mexico St VS Idaho – 10 PM ET – WAC Final
Daniel Mullings (Scarborough, ON) is having himself a banner year, leading the team in scoring (16/7 PPG) and assists (3.5 APG), while stuffing the stat sheet on a consistent basis, against all levels of competition. Sim Bhullar (Brampton, ON) is manning the paint inside, averaging 3.5 blocks per game–good for fifth in the nation! The 7'5 Bhullar also averages 10.2 PPG and 7.8 RPG. Senior forward Renaldo Dixon (Toronto, ON) is having his most productive year for NMSU with averages of 8.5 PPG, 5.6 RPG and a handful of offensive outbursts throughout the season. A win over Idaho will punch their ticket into the NCAA tournament for the third straight year.
BONUS: Acknowledgement goes out to Associate Head Coach Paul Weir, out of Mississauga, Ontario who has done a tremendous job of recruiting Canadian talent.