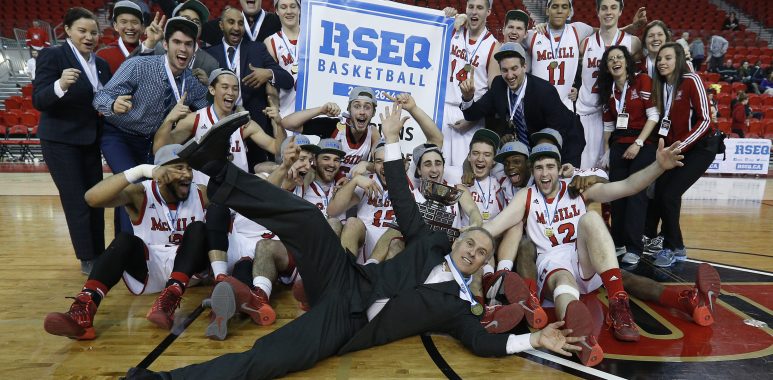 McGill Blows Out Bishop's, Earn Second Straight Trip to Final 8
QUEBEC CITY – The Redmen won the RSEQ championship for a second year in a row against the Bishop's Gaiters. Only this time it was a one-sided affair, with McGill dominating their opponents 73-47 on Sunday.
The clear advantage the Gaiters had was their size. They fed six-foot-ten Mike Andrews the first couple of trips down the floor, and it paid off. He scored, and after only four minutes, McGill's big man François Bourque was headed to the bench with two fouls.
It somehow created matchup problems for Bishop's on the other end of the ball however, as McGill's ball movement and quickness provided them with quality looks on offense. What was a 7-5 Gaiters lead became a 24-9 Redmen lead before the end of the first quarter.
"I don't think we executed our game plan very well in the first half", said Bishop's coach Rod Gilpin. "We also missed a lot of great opportunities inside that would have allowed us to stay in it. Then we got around to a situation where we had to scramble and force things to happen and they moved the ball and handled the ball to well for us to be able to do that. It's not our strength and unfortunately it's the way it turned out."
The defending champions never took their foot off the gas pedal with Vincent Dufort leading the way. "I tip my hat off to Vinny who sprained his ankle the last game of the season against Concordia, so he was not 100%", said McGill's coach Dave DeAveiro. After a quiet semi-final performance, the RSEQ MVP didn't seem too concerned with his ankle as he scored a game-high 18 points, all in the first half, on 7 of 11 shooting (4 for 5 from deep).
The Redmen carried a 40-23 lead into halftime, just to come back even stronger.
Simon Bibeau fuelled a push with seven points in the third quarter, as McGill built a 64-32 lead heading into the fourth. They closed it out playing flawless offense, suffocating defense in addition of somehow winning the battle of the boards 38 to 30.
Perfect game?
"There's no such thing as a perfect game", said DeAveiro. "We executed our game plan. The kids all year long have played really hard and really believed in what we were doing. They understood that if we were going to be successful this year we had to play very good defense and share the ball."
They also shot the ball very well, going 48% from the field and 54% from beyond the arc, en route to a 73-47 victory.
One glaring absence on Bishop's side was Jeremy Leonard-Smith. After being selected on last year's first RSEQ all-star team, he suffered a foot injury in the fall that required surgery. "Jeremy would have definitely made a difference", said Gilpin. "Vincent Dufort would have had a little bit more of a challenge playing against Jeremy than our big guys."
The Gaiters go into the off-season theoretically losing only Onnex Blackwood. They're also scheduled to host next year's RSEQ Final 4.
As for the Redmen, they're headed to a second straight CIS national championship. "It's going to be an extreme challenge", said DeAveiro. "Last year we went there with a veteran group, this year we are going in with a very young group. There are some outstanding teams out there, and I know our kids will be ready to play. Just hope our inexperience won't make a difference at the end of the games."
After going into last year's Final 8 as a #6 seed, McGill had lost its first game 82-70 to the Ottawa Gee Gees. The Redmen have been granted the #5 seed this year and will take on the #4 seed, Victoria Vikes.
NPH TOP PERFORMERS
McGill
Vincent Dufort: 18 points, 7 rebounds, 3 assists
François Bourque: 10 points, 12 rebounds, 1 assist
Bishop's
Mike Andrews: 13 points, 8 rebounds, 4 blocks
Onnex Blackwood: 8 points, 5 rebounds, 1 assist