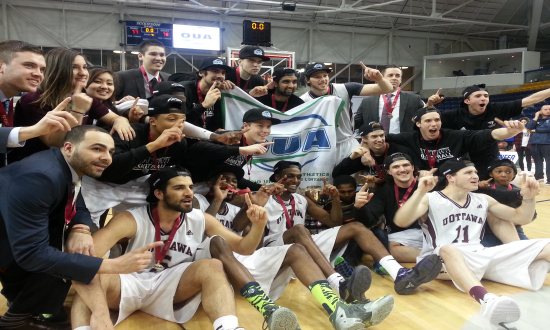 Wilson Cup: Ottawa shocks Carleton at the buzzer!
TORONTO—For the Ottawa Gee-Gees, the final of the 2014 Wilson Cup was the same song, but a different dance.
A year ago, the Wilson Cup final had turned out to be the best game of the OUA season and this year was no different. In 2014, the jerseys were the same and, substitute a few players on each team—notably, a Terry Thomas for a Warren Ward—this was an instant classic just the same as in 2013. Ottawa star guard Johnny Berhanemeskel said that, "Experience is the best teacher."
And he's a good student!
His team won this time, 78-77 on his pull-up jumper with 0.5-second left to play. "Johnny's an incredible kid, he's an incredible player," Gee-Gees head coach James Derouin said. "There's no better guy to hit that shot. Anybody that knows him knows he's the best (guy). I'm so proud of him."
[youtube]http://www.youtube.com/watch?feature=youtu.be&v=Gki9tvMS2G8[/youtube]
In 2013, then-fifth-year Gee-Gees forward Warren Ward had missed a three-pointer that would have sent the game to overtime. This year, Ward was apparently watching on FaceTime with his father, according to Gee-Gees players, after having played in Germany earlier in the day. (His team won its game, 78-76. Yep.)
But for a while, the dream ending of a first OUA title in 21 years seemed like it would turn nightmarish. With 3:39 left to play, Philip Scrubb hit a three-pointer to give Carleton a 75-65 lead. "The rest of it," Derouin said, "is pretty much a blur."
From there, the two Ottawa captains guided the team to victory. The Gee-Gees used stifling defense to close the game on a 13-2 run, with Berhanemeskel (i.e. 9) and Gabriel Gonthier-Dubue (i.e. 4) scoring all their team's points in that stretch. "Some of these guys like Gab (Gonthier-Dubue) and Johnny (Berhanemeskel) have played four years here and never beat them," Derouin said, "you can image what that is like in Ottawa."
It means it's the Gee-Gees with the upper hand, for once. It means that Carleton will not enter next week's CIS Final 8 with an immaculate record after its first CIS loss in 55 games (i.e. a span of 477 days). This win was a long time coming for Ottawa, which had lost 18 games in the series dating back to 2007.
It seems daunting, but only if you see it that way. Berhanemeskel thinks it makes the challenge that much greater—and that the victory tastes that much sweeter. "It's honestly one of the biggest motivators you can have, it makes you wake up every single morning wanting to get in the gym, wanting to watch tape, wanting to get in the weight room," he said. "Obviously we would have wanted to win games versus them earlier, but I wouldn't change the past four years for anything. It's made me the person I am today and made our team the team we are today."
After hitting that game-winner with 0.5 left to play, Berhanemeskel and the Gee-Gees still needed to defend a last-second heave from Carleton's Tyson Hinz. But what's half a second more when you've already waited four years, right?
Meanwhile in the bronze medal game, the McMaster Marauders also booked their ticket for Ottawa next weekend with a 93-89 win. "We did expect to go to the nationals," McMaster's Adam Presutti said. "That was a goal of ours."
Mission accomplished, though it certainly wasn't easy.
Entering this game, the two West teams had played two games decided by two and six points so it was only right that the third game would follow the same script. The middle of two and six is four, and that was the margin this time for the rubber match. "The OUA is never boring," Windsor head coach Chris Oliver. "I'll put Ryerson up against anyone in the country…and that's supposedly our fifth-place team."
There's so much to talk about. Let's explain that the score was tied at 20 after the first quarter. Or that Windsor held a seven-point Windsor lead at halftime. We'll mention, too, the six dunks from Windsor's Rotimi Osuntola Jr., a player who figures to play a key role next year for Windsor. "Tremendous. I hope he's made a statement to be our cornerstone next year," Oliver said. "His challenge has always been consistency, and he's had spectacular moments. And I think he saw spectacular consistency over two games."
We'll mention the 23 points from McMaster rookie Trevon McNeil as well, including a very big three-pointer with 13 seconds left. A night earlier, head coach Amos Connolly had made it a purpose to give the young player extensive minutes. It paid off the following day, McNeil playing a team-high 35 minutes. "He basically just carried us," teammate Aaron Redpath said. "He defends, he's active, he hits shots, he makes great decisions. So why wouldn't he be on the court, right?"
Down two points, Windsor's Josh Collins was fouled with 0.7-second left to play in the game. A 72 per cent free throw shooter for the season, he drained them both. Ice cold, and we were off to overtime. "It's a true testament to our team," Presutti said. "The good teams are the ones that really stick things out when times are tough."
Both of those teams are actually pretty good, so this made for a good extra five minutes. In overtime, Presutti took over with 8 of his team's 12 points. This is what might have been the difference in the game, that the Marauders managed the key rebound, or the key jumper, when Windsor couldn't. Oliver mentioned also that Windsor's 27 turnovers and 12 missed free throws hurt a lot. "That's not our best effort, and that's unfortunate," he said. "Because I think this team was good enough to be at nationals."
The loss stings for the Lancers, who must now hope for an at-large berth to Ottawa. If the invite doesn't come, that'll be all she wrote for its trio of graduation seniors of Lien Phillip, Collins and Enrico Diloreto. "I love those guys, I love what they've done for our program," Oliver said. "It's the impact they've had on our community as well… Just tremendous people and I'm so proud of them for the people that they've become."
The CIS Final 8 are held at the Canadian Tire Centre in Ottawa from March 7 to 9. If it's anything like the 2014 Wilson Cup, CIS fans are in for a treat.
Random notes
The McMaster fans tend to travel well and this weekend was no different. While the "Mac Attack" didn't have much to cheer for in the team's first game on Feb. 28, they were loud in this game. There were plenty of fan clichés for everyone, such as "Call it on both sides ref!" and "DE-FENSE!" Old classics never die.
Rotimi Osuntola Jr. can jump out of the gym, and he just about did. The third-year Windsor player had not two, not three, not four…but six dunks. S-I-X!
Moe Ismail is a strong team chemist for the Gee-Gees. He's the one who leads the player introduction in hugs and such. His dap game is on point too, his routine with teammate Caleb Agada notably being among the most impressive.
Carleton just plods along, in the best way possible. Everyone but their mothers wants to see them lose, always, but the Ravens never waver. They are beatable, tonight proved as much—but they'll be damned if they don't make you sweat it out until the final whistle.
TOP PERFORMERS
Windsor
Rotimi Osuntola Jr.: 23 points, 11 rebounds, 3 assists, 1 steal, 5 blocks
Josh Collins: 17 points, 7 rebounds, 1 assist, 2 steals
McMaster
Trevon McNeil: 23 points, 2 rebounds, 1 assist, 3 steals
Leon Alexander: 21 points, 7 rebounds, 5 steals
Ottawa
Johnny Berhanemeskel: 30 points, 4 rebounds, 4 assists, 1 steal
Terry Thomas: 17 points, 9 rebounds, 4 assists
Carleton
Tyson Hinz: 25 points, 10 rebounds, 4 assists, 1 steal
Thomas Scrubb: 21 points, 4 rebounds, 2 assists, 1 block
Follow Charles Blouin-Gascon on Twitter @RealCBG & NPH @Northpolehoops