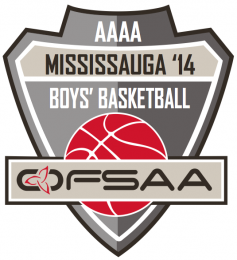 HB Beal Upsets MacNab, FHC Tested Early by St. Mary's at OFSAA
MISSISSAUGA, ON–Our March Madness began yesterday with AAAA OFSAA basketball in our backyard. Coaches from various post-secondary levels (NCAA D1, CIS, CCAA) marched in and locked eyes on some of the nation's top prospects in the first round of games at provincial championships. A stunning performance from Tesloth Simon in a loss to Father Henry Carr, earned him high interest, which will likely turn to offers after this tournament, from three NCAA programs who came to learn about him. Simon finished with 29 of St. Mary's 58 points.
On day one there was just one upset which was from the MacNab (Hamilton, ON) and HB Beal game (London, ON) where senior guard Moses Orozco led HB Beal with 19 points. HB Beal is no stranger to OFSAA competition having finished 3rd place in 2008 and more recent a 4th place finish in 2012 when Andrew Wiggins was in a Vaughan uniform. This particular bunch is confident and play with the element of toughness through grimy situations. Although we call it an upset according to the seedings, this tough team deserves respect and should not be taken lightly.
In the same light, Notre Dame (Brampton, ON) and St. Mary's have to be taken seriously. Even after making it to OFSAA Notre Dame still feels slighted by their seeding and feels they should have been higher, as head coach
"The only way to get respect sometimes is to take it. My guys thought that after beating Campion in that last game to qualify for OFSAA, they had earned that respect, once they saw where we were seeded, they went back and thought 'ok we're just going to have to prove it again.' "
Trevon Mollison and Michael Asemota were once again key contributors in the win for the Knights. As a unit, the Notre Dame Knights harassed the Cardinal Newman guard David McCulloch and made it difficult for him to operate. With all the defensive attention on McCulloch it allowed Tyler Brown to show off a much improved shooting stroke from three.
Father Henry Carr getting tested early on by St. Mary's was good for the psyche of both teams. For FHC it shows them that there won't be any "walks in the park" to get to the finals, and for St. Mary's it instills more confidence in that they can compete with the best teams. A St. Mary's player that barely gets any pub, but comes out every game and is a big contributor for this team is Nathan Riley. He had some pivotal plays in the contest to keep his team hanging in.
We are anticipating two cake-walks in today's competition. The private school meeting between number one seeded St. Michael's and number 16 St. John's Kilmarnock and the other being an easy Father Henry Carr win over Glebe. All the other second round games should be exciting and a few will come down to the wire. Will today be the day St. Mary's takes down a top dog? Will MacNab turn things around against d'Youville? We're setting up for a one hell of a third round.
Below are the results of Day 1, follow the link to see the schedule for Day 2.
AAAA OFSAA Day 1 Results
Game 1 – St. Michael's 75 Mother Teresa 52
Game 2 – Vaughan 88 St. John's Kilmarnock 40
Game 3 – d'Youville 76 Innisdale 41
Game 4 – Sir Allan MacNab 57 HB Beal 62
Game 5 – Cardinal Newman 54 Notre Dame 59
Game 6 – Pine Ridge 71 Cameron Heights 60
Game 7 – Eastern Commerce 65 St. Patrick's 45
Game 8 – Oakwood 70 Glebe 40
Game 9 – Father Henry Carr 78 St. Mary's 68
Championship Round 2 
Game 10 – St. John's Kilmarnock 70 Innisdale 53
Game 11 – St. Patrick's 67 Glebe 69