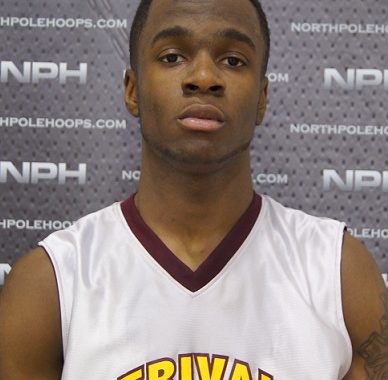 Merivale Upsets #2-Ranked Henry Carr at Silver Fox
HAMILTON,ON–They walked onto the court as unknowns and walked off as slayers of the @NorthPoleHoops #2-ranked team in the nation–the Father Henry Carr Crusaders.
The Merivale Mauraders made the trip from the nation's capital as a last minute filler team for Kingston's La Salle.
The looks on the faces of Merivale from tip off showed that they meant business and were up for a challenge. While speaking to one of the tournament directors, they had informed me that Merivale wanted to play FHC first to see where they stood among the country's best. They stood straight up and walked off the floor with a 69-62 victory and no celebration. In their eyes, they were suppose to win that game, and every game for that matter.
Shymar Brewster carried Merivale with the help of Umed Hyderi and Kevin Metelus; each with over 10 points in the game. On the defensive end, they got help from their forward Sam Wilson, who was able to block and alter shots.
Offensively, Brewster was a tough guard because of his versatility and ability to finish from all over the floor.
As for FHC, they will learn to never under estimate an opponent the way they did Merivale.
The biggest lead of the game was eight, and it belonged to the Ottawa contingent. FHC played with no sense of urgency throughout the game and when they finally realized they had to turn it up, it was too late.
Anthony McNish (2017 6'5 F) was not in the line up; a big piece of that FHC puzzle. Despite the absence of McNish, the Crusaders simply came out flat–something Henry Carr coach Paul Melnik expected, with students fresh off exams.
Kadeem Smithen, Thornlea Turning it Up
On another note, one team who has really turned things around to start the second half of the season is Thornlea. The Thunder have developed consistency in their rotation, but have a short bench; this group will battle for a spot at provincial championships, out of the York Region.
Thornlea defeated St Marys (NPH #19-ranked) 59-49, followed by an impressive defensive showing against J.C Richardson (NPH #24-ranked) 49-27.
Assistant Coach at Thornlea, Jay'r Smith mentioned before their game, "There's been more chemistry and role definition in practice and our defense is sharp."
This was evident from their rotations in the 2-3 zone, loud, communicative and synchronized. The length of their guards also was a huge help when they were diving into the passing lanes for deflections and outlet passes.
Thornlea's uncommitted guard, Kadeem Smithen stole the show last night in what was the game of the tournament so far against Kitchener's St. Mary's Eagles. Smithen's play making abilities were on full display as Thornlea defeated St. Mary's 59-49.
Considering how many solid games he had in last summer's AAU season, it's mind boggling how Smithen only has one offer on the table from Sienna. Smithen looks to be reaching his peak this season.
Although Smithen typically gets the headlines as the marquee player, guys like Marvin Ngonadi, Cameron Creightney, Emmanuel Sheppard and Kimberl Saint Felix off the bench all contributed to the victory on both ends of the floor.
Unranked Merivale will now take on Thornlea (NPH #19-ranked ) in the #SilverFox semi-final, while Oakwood (NPH #3-ranked) and Pine Ridge (NPH #10-ranked) will go to battle.
Of Oakwood's three losses on the season, Pine Ridge owns one of them, in early exhibition play. The Barons will be out for revenge, this time with a full line up (they were missing Brody Clarke), while Pine Ridge has plans to continue rising, as they have been this month.
Click to view FULL list —>>> #NPHTop25 National High School Rankings
Silver Fox Day 2 Results
Immaculata (Ottawa) 60 Oakwood (Toronto) 81
Jacques Lukusas 21 Russell Baker 22
St. Mary's (Kitchener) 49 Thornlea (Thornhill) 59
Tesloth Simon 25 Kadeem Smith 16
Pine Ridge (Pickering) 75 Nelson (Burlington) 63
Chase Vassell 20 Jordan Sobot 23
Merivale (Ottawa) 49 Father Henry Carr (Etobicoke) 42
Kevin Metelus 14 Brendan Chevannes 11
North Park (Brantford) 53 W.F. Herman (Windsor) 50
Matt Minutillo & Jon Dulmage 14 Robel Neguess 20
Korah (Sault Ste. Marie) 38 St. Theresa (Midland) 41
Anthony Iacoe 15 Jedson Tavernier 15
West Carleton (Dunrobin) 55 Cardinal Newman (Stoney Creek) 54
Corey Johnson 25 Tyler Brown 23
Holy Trinity (Oakville) 55 J Clarke Richardson (Ajax) 71
Ignas Brazdeikis 17 Matt McKail 20
Merivale (Ottawa) 58 St. Thomas More (Hamilton) 51
Shymar Brewster 13 Cordell Crockett 11
St. Jean de Brebeuf (Hamilton) 79 Immaculata (Ottawa) 71
Oakwood (Toronto) 63 Saltfleet (Stoney Creek) 50
Brody Clarke 21 Nicola Djogo 13
Chatham Kent (Chatham) 68 St. Ignatius of Loyola (Oakville) 61
Dan Peterman 14 Connor Shkimba 23
Merivale (Ottawa) 72 Korah (Sault Ste. Marie) 69
Kevin Meteus 17 Anthony Iacoe 24
Westmount (Hamilton) 59 Bishop Reding (Milton) 48
Justin Lenters 15 Jordan Brathwaite 13
St. Jean de Brebeuf (Hamilton) 55 North Park (Brantford) 45
Lucas Johnson 16 Matt Minutillo 16
J. Clarke Richardson (Ajax) 27 Thornlea (Thornhill) 49
Marcus Ottey 11 Emanuel Shepherd 27
Pine Ridge (Pickering) 62 Cardinal Newman (Stoney Creek) 60
Jordan Henry & Chase Vassell 19 Marko Grahovic 16
Cameron Heights (Kitchener) 63 Father Henry Carr (Etobicoke) 84
Sasha Simic 17 Girece Kazumba 22
Nelson (Burlington) 65 West Carleton (Dunrobin) 53
Filip Vujadinovic 29 Corey Johnson 17
Immaculata (Ottawa) 59 W F Herman (Windsor) 64
Jacques Lukusas 20 Shawon Anderson 15
St. Theresa (Midland) 41 St. Thomas More (Hamilton) 46
Stephen Hayley 10 Jaylen Clarke 22
Holy Trinity (Oakville) 61 St. Mary's (Kitchener) 60
Nick Ernest 18 Jermaine Lyle 16