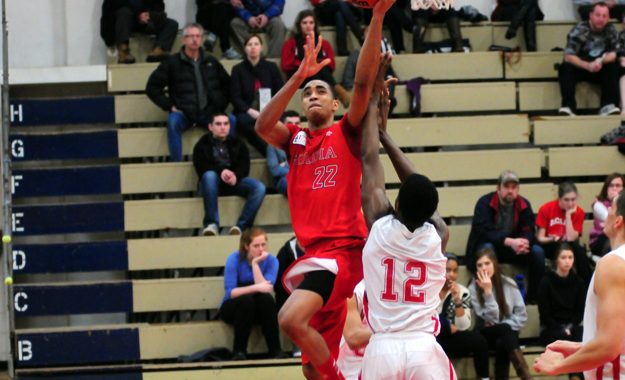 The East Coast Round Up, with Deon Wilson
Welcome to the first installment of the East Coast Round Up.
The first shout out this week goes to the Citadel High Girl's Basketball Team.  The Phoenix won the CEC Snowball Classic in Truro Nova Scotia by defeating Horton High School 86-40.  The Phoenix are absolutely rolling and have not lost a game since the provincial final in March of 2011 which marks 87 consecutive wins.
I will dig deeper into this story later this week.
Atlantic University Men's Basketball
Dalhousie Tigers @ University of New Brunswick Varsity Reds
The post Christmas league play started on Friday night and Javon Masters and the UNB Varsity Reds picked up where they left off.  Masters went at the Dalhousie Tigers and scored and astonishing 30pts on 12 shots. Masters used the drag step to perfection to draw contact and get to the line 19 times connecting on 17 of them. Will McFee, who returned from injury just before Christmas contributed to UNB's 74-66 win by chipping in with 16pts. Simon Marr and Ritchie Kanza Matta lead Dalhousie with 14 apiece.
UNB squared off again on Saturday night with the 7th place Tigers knocking off the 1st place Reds 70-65.  Dalhousie is a team that has struggled in fourth quarters but finally put it together and won a tight competitive game.  Simon Marr has broken out of his slump and led the Tigers with 17pts and 6rebs.  Devon Stedman chipped in with 14pts and 9rebs.  Javon Masters slowed down and actually looked human on this night but still lead his team with 18pts.  The story for this game was that Dalhousie outmuscled UNB and beat them up on the boards for a 41-23 edge.
St Francis Xavier X-Men @ Saint Mary's Huskies
In what seems to be usual format for the Huskies they had another strong comeback win.  In a decisive fourth quarter the Huskies were led by Theon Reefer who dropped 3 triples in the frame to give his team the 33-21 edge and a 96-82 win over the visiting X-Men.
Reefer led the Huskies with 23pts and Riley Halpin chipped in with 22pts on 9/15 shooting.  The X-Men were led by guards Will Donkoh with 20pts and Jordan Clarke with 16.
Cape Breton Capers @ University of Prince Edward Island Panthers
These two teams clashed on Friday evening and were both looking to get their season rolling as neither team lived up to expectations in the first third of the season.  This was expected to be an intense battle however the Panthers took care of that notion by halftime leading the Capers 45-23 at the intermission.  The Panthers were lead by a pair of Citadel High products with Jayden Nordin dropping in 18 and Deontay Smith netting 17.  Meshack Lufile lead Cape Breton with 17pts on 8/11 shooting.
University of Prince Edward Island Panthers @ Saint Mary's Huskies
In a rare home and away weekend for the Panthers they showed and proved themselves to be an elite team in the AUS.  The Island team travelled into 2nd place Saint Mary's on Saturday night and came out with a 4pt standing win 92-81 over the Huskies.  Most impressive for the Panthers is that they accomplished this with such incredible balance having all 5 starters score in double digits; Geoffe Doane 24, Deontay Smith 15, Donathan Moss 14,  Ellis Ffrench 13 and Aaron Robins 10.
The Huskies were lead by Theon Reefer and Marquis Clayton each with 19pts.
Memorial Seahawks @ Acadia Axemen
The Axemen again were playing without a starter, this time Anthony Ashe.  But this team has figured out how to play through injuries and on this night Shaquile Smith was happy to take those starter minutes.
In a tough and physical game where the Seahawks bigs really went at Owen Klassen physically the Axemen were able to come away with a tighter than expected 75-70 win over the last place Seahawks.  Klassen went 9/15 from the free throw on his way to a 17pt night with Shaquile Smith chipping in with 16pts and 9rebs.
The Seahawks who are just playing for respect at this point earned some on this evening battling one of the AUS elite and making them fight every possession.  The Seahawks were lead by Davion Parnsalu's 18pts and 12pts apiece from forwards Caleb Gould and Vasilije.
The second game of the double dip went on Sunday and the Memorial Seahawks tried to execute the same game plan, be physical with the Axemen.  The officials and Acadia were having nothing to do with this.  The refs called what needed to be called and the Seahawks big's got in quick foul trouble and.
The Axemen locked the SeaHawks down in the first quarter outscoring them 21-5 and then just basically cruised through the remainder of the game.  All 12 Axemen saw floor time with Owen Klassen scoring 21 points in 18 minutes of floor time.  Shaquile Smith who got the start again had an outstanding performance and contributed 20pts and 4stls. Vasilije Curcic and Alphaeus Kisusi led Memorial with 13 apiece.  The final Acadia 94 Memorial 63.
With the win the Axemen move into sole possession of first place in the AUS and look for them to earn a National Top ranking in the coming weeks.
Division 1 High School Hoops
Moncton Irving Classic, Crandal University
The CP Allen Cheetahs rebounded from an opening game loss to Bernice MacNaughton at the Moncton Irving Classic by cruising through the remainder of the tournament and defeating Riverview High School 87-81.  Tournament MVP Nick De Palma dropped 41pts. All Star Oliver Keuhm 18pts and Chris Towle 15pts contributed to the victory.
The Cheetahs defeated Colonel Gray 92-52 in the semis and the Royals defeated the in the other semi.
Irving Riverboat Classic, Kennebecasis Valley High School
The host Kennebecasis Crusaders played the Fredericton Black Kats in the Tournament Final.  The Black Kats led early in the game 24-20, however the Crusaders kept fighting and took a 50-49 lead into the fourth quarter.  KV extended the lead to 70-63 with 20 seconds left and Fredericton dropped the late three to make it a 70-66 win for Kennebecasis Valley.
Jack Tiley led Kennebecasis with 19 and Brad Sanford had 16pts and 10rebs.
Fredericton was led by Val Nelsen and Jeong Woo Park who each netted 16pts.
MVP: Jack Tilley (KVHS/2016)
All Stars:
Brad Sanford (KVHS/2014)
Stanley Mayambo (Fredericton/2015)
Dan Luton (Fredericton/2014)
Jake Urquhart (Leo Hayes/2015)
Devon Rector (Saint John/2015)
Bill Dompierre Memorial Tournament, Lockview High School
The host Lockview Dragons squeezed into the final to play Dartmouth School and NPH #23-ranked Prince Andrew.  In a competive game, the Panthers led almost wire to wire. Forward Tyshaun Boutlier who took home tournament MVP was the difference for the Panthers as he routinely came up with solid buckets in the paint and boards to keep the constantly pursuing Dragons at bay.  Player of the game grade 9 Mark Firth of Lockview made jumpers down the stretch to give the Dragons a chance but Lockview held on for a 72-62 win.
Bishops Barons Invitational Tournament
On the rock in Newfoundland Gonzaga High School continues to knock off opponents this time defeating Booth High School 81-71.  Tournament MVP and NPH Showcase Alum Curtis Mullowney had and excellent championship game going for 16pts and 15 rebs.  Gonzaga was led by Colin Connors 25 pts.
Booth advanced to the final with a 87-61 victory over Mount Peral and Gonzaga advanced with a 84-73 win over Holy Heart.