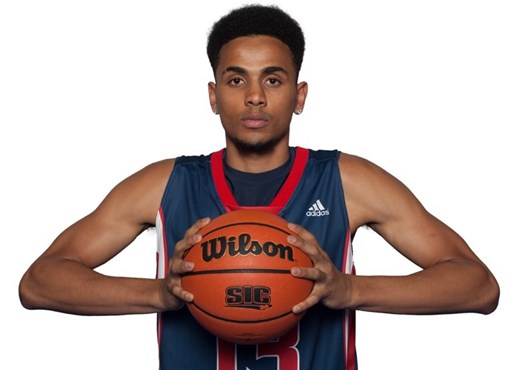 The CBG Bunch: Dani Elgadi, Greg Faulkner, Jahmal Jones + more!
Welcome to the CBG Bunch, a specialized column dedicated to the CIS season. Every week, Charles Blouin-Gascon parses through the CIS box scores over Sunday brunch while looking for the CBG Bunch, a group of the top performers of the weekend's action.
The arrival of 2014 brings with it a new batch of good bad puns. If Santa wasn't so generous to you this past year, perhaps you'll have better luck with The CBG Bunch.
Let's first start by congratulating Alex Hill on becoming the leading scorer in the history of the Toronto Varsity Blues basketball in a game against the Ryerson Rams on Jan. 5. All the man does is score points—there are no puns necessary, because that achievement is no laughing matter.
Dani Elgadi, Brock Badgers at Guelph Gryphons: 31 points, 21 rebounds, 1 assist
The Brock Badgers left the W.F. Mitchell Centre with a 99-84 loss, but it wasn't Dani Elgadi's fault. The young rookie channeled his inner Wilt Chamberlain on his way to 31 points and 21 rebounds, a rare 30-20 game in the CIS. (Is 30 not the new 20? But then, that would give Elgadi 30+ rebounds, which is 20, which is 30, and so on… Let's move on.)
After the win, some believe that the Big Dipper stopped by the Brock changing room to speak to Elgadi. "Don't stop there," he might have told the young one. "I never understood what it was about Mike. Everyone wants to be like Mike, but I'm still the only rookie in NBA history to average 30 points and 20 rebounds."
Be like Wilt. That's Elgadi's new motto.
Adam Chmielewski, Concordia Stingers at UQAM Citadins: 26 points, 3 rebounds, 3 assists, 1 block
Adam Chmielewski is the field general that guides the Stingers on their march. (He's also, oh by the way, captain of the "Players whose last name is complicated enough that you learn how to spell it correctly every time" all stars.) Head coach John Dore's squad has experienced a difficult start to the season, with three losses in a row but they've pulled back to .500 now. Against the Citadins, the third-year point guard was instrumental and had his best game of the season—points, rebounds, assists and blocks, combined with only one minute of rest and 39 minutes of action. They say sleep when you're dead, and Chmielewski believes that you rest once you've aced the test.
Greg Faulkner, Queen's Gaels VS Toronto Varsity Blues: 37 points, 1 rebound, 2 assists, 1 steal
Greg Faulkner, a fourth-year forward with the Queen's Gaels, is, to quote a contemporary poet of ours, pretty preeetty preeeetty good for reasons that go beyond the fact that Carleton's Dave Smart once recruited him for his Ravens' nest. His game against the Varsity Blues was a lesson in efficiency, as Faulkner put up 37 points by making half of his team's field goals. Maybe you miss 100 per cent of the shots you don't take, but Faulkner proves to all of us that you can hit 17 of the 22 shots that you do take.
Jasper Moedt, UFV Cascades at Manitoba Bisons: 23 points, 16 rebounds, 1 assist, 2 blocks
This column is meant for everyone, or at the very least myself, to have some good fun and possibly laugh once or twice at finding out whatever dumb puns I have come up with next. In preparing this new edition of The CBG Bunch, I saw that Jasper Moedt had a strong, strong game against the Manitoba Bisons and was intent on making a joke with a bad pun.
Then I searched Google. I read about Jasper Moedt's past demons in The Cascade and the fact that he came oh so close of committing suicide not so long ago. Thanks, Jasper, for sharing your story. It's an emotional journey that's very human and full of truth.
Morgan Duce, Lethbridge Pronghorns at UNBC Timberwolves: 35 points, 7 rebounds, 1 assist, 1 steal
In Prince George, B.C., the Pronghorns beat the Timberwolves in a three-overtime and instant-classic thriller, and Morgan Duce gave a clinic in clutch play. He tied the game at 93 in the fourth quarter with 14 seconds left, drained a three-point shot with 7 seconds left to tie it at 112 apiece and force a third overtime period, and iced the win at the free throw line with only a second left. The fifth-year player left the court but not before giving a hug to his fans, a flock of human pronghorns known as the Duce traveling pack.
Javon Masters, UNB Varsity Reds VS Dalhousie Tigers: 30 points, 8 rebounds, 1 assist, 3 steals
Young Masters proved against the Dalhousie Tigers that his scoring touch doesn't have a 2013 expiration date, as he scored 30 points on just 12 shots. Young Masters may be young, but already he's attained the rank of master, and this is what should scare opposing CIS teams the most. The legend goes that the student will always surpass the master—and this master isn't even all grown up yet.
Jahmal Jones, Ryerson Rams at Queen's Gaels: 31 points, 3 rebounds, 3 assists, 3 steals, 1 block
Jahmal Jones was head coach Roy Rana's first big recruiting fish almost four seasons ago, and he's lived up to the hype. The Rams point guard is among the quickest in the CIS and he's enjoying by far his finest season yet this year—he's scoring at will and hitting just about every other field goal attempt he takes.  Jones is fourth in assists, fifth in points and sixth in points per game in Canada.
But he's never had a nickname, and I think it's time to change that. How about "The Point Guard Jones"? Or what about "Slow Down"? Yeah, I know you have a better suggestion.
Lien Phillip, Windsor Lancers at Wilfrid Laurier Golden Hawks: 26 points, 15 rebounds, 1 assist, 3 steals, 3 blocks
Lien Phillip, leader of the Windsor Lancers, is in his final year of eligibility so he's making every game count. And against the Wilfrid Laurier Golden Hawks, he made every possession count. There aren't many, if any, players like him in the CIS and every so often he reminds us of it with a stat line that not many, if any, players can match. Francophone readers would probably say that Lien Phillip is the missing lien for the Lancers' quest toward excellence. Francophones wouldn't technically be wrong, they'd just be exhibiting a rather poor sense of humour.
François Bourque, McGill Redmen VS Laval Rouge et Or: 23 points, 12 rebounds, 2 assists, 1 block
François Bourque sure made the most of his 21 minutes of action against the Laval Rouge et Or in helping his team stay first in the RSEQ. If a double-double is impressive, what stands out is that the rookie buried 11 of his 14 shot attempts. Bourque plays within himself and he's been a good addition to head coach Dave DeAveiro's squad. Don't look now, but the Q (i.e. the league) might have a new Q (i.e. the player)!
Kevon Parchment, UFV Cascades at Winnipeg Wesmen: 21 points, 8 rebounds, 5 assists, 6 steals, 3 blocks
The last time we read from the old scriptures, our young hero had decided that he wanted to move out west. Well, he would, and he would bring the scriptures with him. "Never forget the scriptures," his father had told him. And because he had the scriptures in his bundle, our young hero would read every night before curfew. He would read, and once he read about that young man, that combo guard who was swimming among the cascades. Our young man read about the combo guard who was studying as he was playing basketball, about how a game against the Wesmen would prove that he knew how to count to 10. In that game, the scriptures said, the combo guard totaled 1 personal foul, 2 three-pointers made, 3 blocks, 4 turnovers, 5 assists, 6 steals, 7 defensive rebounds, 8 total rebounds, and 9 total field goals. Our young man then asked aloud, "But where is 10?" But he knew. All along he knew. "Take the 9 field goals made and add to it the one free throw made. It's 10."
"It may be hidden, but the answer always lies within the parchment," our young hero would say. And our young hero would nod off, asleep until the next time the scriptures called.
Follow Charles Blouin-Gascon on Twitter @RealCBG & NPH @Northpolehoops