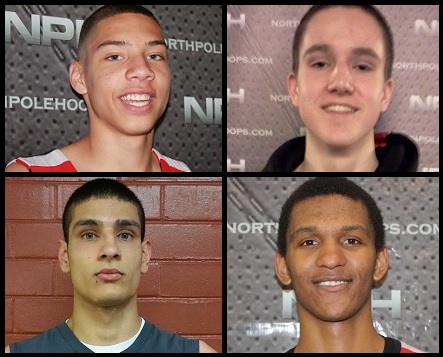 British Columbia Class of 2014: How Will They Be Remembered?
They excelled as rivals. They excelled as individuals. They excelled because they were pushed by each other knowing that they were all fighting with the same goals in mind. Ironically, in pursuing individual excellence, they have together become one of the more memorable classes from British Columbia (BC) in recent memory.
"It's always hard to compare talent (from years past) but these kids are special. They are doing big things," commented Chad Clifford, co-founder and director of DRIVE Basketball—one of the most renowned basketball programs in BC.
Although frequently playing little brother to the powerhouse provinces, Quebec and Ontario, BC has quietly developed a steady crop of talent over the past decade. Certainly, any British Columbian will proudly tout the arrivals of Kelly Olynyk (Kamloops) and Robert Sacre (North Vancouver) to the NBA stage. But now, many other BC players are beginning to develop and blossom which has basketball enthusiasts excited within the province.
With the likes of: Tristan Etienne (W.J Mouat), Sukhjot Bains (Tamanawis), Jadon Cohee (Walnut Grove), Drew Urquhart (formerly St. Georges), Mindy Minhas (Sir Winston Churchill), and Denver Sparks-Guest (Gleneagle), the 2014 class possesses an array of young prospects who are determined to make their mark on the American scene, similar to Olynyk and Sacre—but it will take time.
Randy Coutts, back-to-back provincial championship winner in 1995-1996 and head coach at Kitslano secondary school for the past 17 years, has seen a lot of basketball in his time. He commented that although the aforementioned standout players of the class have a promising base and skill set to work with, they all still will need time to adjust to the physicality of the next level.
Founder of the prestigious Telus Classic tournament and one of the most revered figures in BC basketball, Howard Kelsey, shared similar thoughts to Coutts in terms of the promise of this year's class.
"It's a decent class," he said.
"There are a few standouts. But compared to several years ago with Phil and Thomas Scrubb, Bol Kong, Robert Sacre, and Marc Trasolini—there has been a downswing in talent."
There are other BC basketball observers who share a different view, from Coutts' and Kelsey's assessment.
Pasha Bains, one of the most prolific scorers and successful players ever to come out of BC, called this year's class one of the better classes in BC history.
So although the immediate effectiveness and impact of the 2014 class is still being hotly debated within BC circles, their talent and potential is nonetheless being recognized by post-secondary institutions.
The aforementioned Etienne recently signed his National Letter of Intent (NLI) with the University of Washington Huskies (NCAA D1). With his 6'10 frame, Etienne is definitely one of the more versatile and promising players in the province. Etienne already possesses a remarkably long wing span, established footwork skills, and a reliable 15-17 foot jump shot heading to UW. Expect Etienne to contribute to the Huskies in the near future when he adds bulk and strength to his frame.
Cohee also will be playing D1 come next year as he recently signed his NLI for Seattle University. Cohee is known for his all-around outstanding game as he incorporates scoring, passing, leadership and a solid handle all into his game at Walnut Grove Secondary (Langley). Last year Cohee led his team to the BC AAA provincial title and was named the MVP in the process. He has a good chance to repeat this year.
Minhas is a unique situation in this year's class as he had American interest but decided against them for a chance to stay close to home and play at the University of British Columbia (UBC). Among BC club coaches, Carmelo Anthony is a common comparison that is brought up for Minhas because of his offensive versatility. Minhas can attack bigger forwards off the dribble but also has the ability to post up smaller guards when needed. In other words, Minhas loves to score the ball.
The pride of Tamanawis Secondary School, Sukhjot Bains, is another player within the 2014 class that has drawn comparisons to both Cohee and Minhas. At 6'7, Bains possesses as much, if not more, offensive fire power than any other member in his class. Bains currently is mulling over a bevy of options, he is likely to play D1 in the fall.
If there is a player from Bains' class who could conceivably exceed him in terms of pure offensive capabilities, it would be Denver Sparks-Guest from Gleneagle Secondary (Coquitlam). Sparks-Guest is a 6'5 forward/guard currently averaging 22 points per game, nine rebounds and six assists. He will be attending Simon Fraser University next fall (D2). Sparks-Guest, while not possessing the greatest foot speed and athleticism, is an offensive gem. With his deceptive moves, shot fakes, and herky-jerky style of play, Sparks-Guest should become a treat to watch for Clan fans come next fall.
The most over looked member of the 2014 class would be 6'9 Drew Urquhart—not because of a lack of skill or talent—but rather because last year he moved from St. Georges Secondary (Vancouver) to attend Eastside Catholic (Seattle, Washington). Unfortunately for Urquhart, he has been ruled ineligible for this season. Nonetheless, he will still be attending Vermont University (D1) in the 2014-2015 season—a testament to the talent and potential the Catamounts see in him.
Yet, perhaps the true depth of the 2014 class can be found in the fact that beyond these notable NCAA bound players, there are still a number of others players that will go on to the next level within Canada playing CIS and CCAA.
"I can't remember a class that had so many guys. I'm talking twenty plus guys (will compete at the next level)," commented Hanif Karmali, head coach of the Handsworth Secondary Royals, who has followed BC basketball closely for the past decade.
6'9 center, Grant Galbraith, is a prime example of a player that has flown under the radar because of the 2014 class depth. Galbraith, with his soft hands, reliable 15 foot jump shot, and sound footwork, is headed to the University of Alberta next fall—one of the premier programs in the nation. Yet, he is hardly mentioned when speaking of the elite prospects of this year's class.
Matt Neufeld, from Lambrick Park Secondary (Victoria) is a similar to Galbraith. He definitely will play next fall and the University of Victoria seems primed to be his likely landing spot.
Similarly, skilled and underrated guards such as: Elijah Campbell (Vancouver College), Adam Karmali (Handsworth), and Corey Hauck (W.J Mouat) all figure to be contributors in the CIS/CCAA next fall—again underlining the depth of the 2014 class.
Yet, ultimately in considering the 2014 class as a whole, what is accomplished at the next level may determine their legacy and historic placement in BC basketball—and rightfully so.
"They have earned the crown as the top prospects for their age, but now comes the real challenge. Playing against men night in and night out is tough, both physically and mentally, so their legacy will be measured at the end of their University careers in my eyes," commented former CIS all-star and national champion, Aaron Mitchell who also has been the bench boss at Saint Thomas More Collegiate for the past ten years.
When a player goes on to compete at the next level it is not solely an individual celebration.
Certainly, that individual will ultimately be most responsible for his/her success yet along the player's journey coaches, clubs, mentors, players and high school programs all contribute to that player's development. In a sense then, it is a celebration of BC basketball as a whole and something that all parties involved should take pride in.
How the class of 2014 will fare in the future is tough to tell. Until this is determined, BC basketball enthusiasts should feel proud in the fact that the 2014 class provided them with so many memorable games over the years.
And more to come.