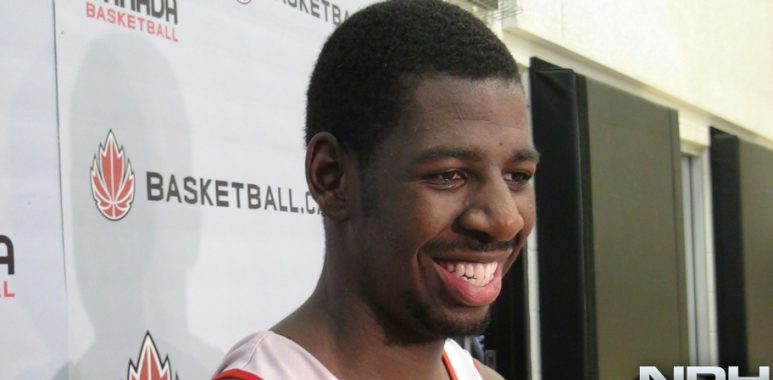 Canadians in NBA: Nicholson Productive in Magic Blowout
North Pole Hoops continues its coverage of Canadians in the NBA for Tuesday November 26. In one of four games on the docket, the Los Angeles Lakers fell to the Washington Wizards. With Steve Nash still out with lower back problems/nerve root irritation, and Robert Sacre riding the pine, that left just one Canadian in action Tuesday.
Andrew Nicholson
The Orlando Magic put a hurt on the Atlanta Hawks, blowing them out 109-92.  Andrew Nicholson was solid in the win, hitting key shots in the late third and into the fourth quarter to help the Magic pull away from the Hawks. In the end, Nicholson scored 18 points on 8-11 shooting, hitting 1-2 three pointers, while finishing off a 3-point play, hitting his one and only free throw. He also contributed eight rebounds and blocked a shot in 25:13 off the bench for coach Jacque Vaughan and the Magic.
It has been an up-and-down season for Nicholson, in terms of both production and minutes. While playing 25 productive minutes (19 pts, 8 rebs) in Sunday's loss to the Phoenix Suns, Nicholson did not see 20 minutes of action if the any of the Magic's previous five games. So far in 14 games this season, Nicholson is averaging 21 minutes, 9.5 points and 5.5 rebounds per game.
Looking ahead
It will be a busy Wednesday night in the NBA. The aforementioned Andrew Nicholson will try to continue his success off the bench as the Orlando Magic play the back end of a back-to-back against the Philadelphia 76'ers.
Meanwhile, Kelly Olynyk will look to return to the Celtics frontcourt after missing two games with a sprained right ankle. The Boston Celtics play the Memphis Grizzlies on Wednesday.
The struggling Cleveland Cavaliers tip off against the NBA champion Miami Heat. Tristan Thompson, Anthony Bennett and Joel Anthony could all be in action. Cory Joseph has recently been seeing some minutes off the bench for coach Gregg Popovich. The San Antonio Spurs play Kevin Durant and the Oklahoma City Thunder. Samuel Dalembert and the Dallas Mavericks face the Golden State Warriors, and North Pole Hoops will have its eyes on Steve Nash, Robert Sacre and the Los Angeles Lakes as they tip off against the Brooklyn Nets.