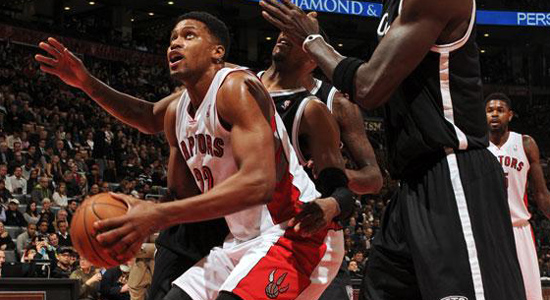 Raptors Wrap: One Stat forward, One stat back
Photo courtesy Raptors.com Ron Turenne/ Getty Images
Every time the Raptors seem to take one step forward this season, they take one step back.
A win and a loss to Eastern Conference rivals the week left the Raptors sitting at 6-8 on the season; good enough to remain atop the lowly Atlantic Division. Toronto's NBA team played just two games in a short, restful week that were the start of a four-game homestand.
But with much of the team dealing with flu-like symptoms the rest wasn't enough to give the Raptors a real homecourt advantage.
On Friday night the Raptors survived John Wall's season-best 37 points to beat Washington 96-88. It was the first time the Raptors had won consecutive games this season and despite what any stats said, Rudy Gay was just happy to have earned a win.
After the game, Gay talked to reporters about his new team policy where box scores would be banned from the Toronto locker room. Score sheets, according to Gay, get the players too focused on the numbers rather than the overall outcome be it a win or a loss.
The theory dictates that with all the players focused on only what they need to do to help the team win, they can be more unified instead of inspecting each others' efficiencies and number of shots attempted.
All of this policy seems suspicious given Rudy's reputation among those associated with the analytics movement in pro basketball. His midrange jump shots and low shooting percentages have been fodder for criticism about player efficiency and have sparked discussion about what winning basketball really looks like.
According to the stats, more possessions and three-point attempts equal better offence, but this style is yin to Gay and the Raptors' yang.
On Friday night, Gay's shooting woes (6-16) could be chalked up to his battling through illness, but he's also mired in a season-long slump converting a career-low 38% of his shot attempts. That being said, Gay came to play during winning time. The small forward entered the final frame with just six points but added 11 in the fourth to seal the victory. It's that kind of play that backs up his new rule.
The winning streak didn't last however as the Raptors lost 102-100 Tuesday night at home to the underachieving Brooklyn Nets who were without Deron Williams, Brook Lopez and several key bench players, but managed to survive and snap their five-game losing streak.
DeMar DeRozan led the attack early hitting his first five shots, but with 5:22 left in the game his hot hand had cooled and the Nets led 101-86 before letting the Raptors claw their way back into the game.
It wasn't pretty but it was another example of sending the stat sheets to the incinerator and just playing winning basketball except that the Raptors failed to deliver the death blow when an Amir Johnson three-ball couldn't complete the comeback.
The Johnson three-pointer isn't the most reliable of shots, but he can occasionally make them when he is left open from distance; he's shot just 5-20 from the land beyond so far this year. It wasn't Toronto's first option coming out of the timeout, but it's a chance they can afford to give early in the season to a player who has worked tirelessly to extend his range.
But it all counts for naught now that the game is over and the result is not the win they were seeking. Perhaps even more troubling, it was the fifth time the Raptors have given up 100+ points this season and they've lost all five of those games.
With games coming up against Miami and Denver to round out their homestand, the Raptors can't afford to give up season-highs, have off-shooting nights, or find themselves forcing comebacks if they hope to maintain a lead on the Atlantic before they go on the road again.
And if all they're concerned about is wins, they should be just fine.
Raptors Results
Win vs Washington Friday 96-88.
Key Stat – Raptors bench came alive outscoring Wizards bench 25-9
Top performer – DeMar DeRozan/ Rudy Gay 17 pts each
Lost to Brooklyn Tuesday 102-100.
Key Stat – Points in the Paint; Brooklyn (48) Raptors (28)
Top Performer – DeMar DeRozan 27 pts