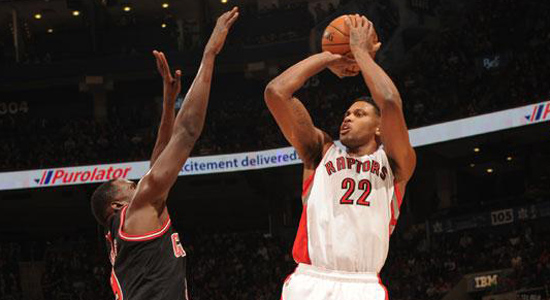 Raptors Wrap: Atop the Atlantic At Last
Any preconceptions you may have about Toronto's success and style of play shouldn't be drawn by looking at the roster, but whatever it is they're doing it's working so far.
Working though is a relative term for a team sitting atop the [struggling] Atlantic Division for the first time since April of 2007, having earned the spot with just a 5-7 record after a win over Philadelphia Wednesday night.
If you've watched the Raptors this year, you'll find they're a hard team to figure out.  Even opposing coaches still hold onto misconceptions based on basketball adages.
"They're going to try to push the pace with their wings and try to get down the floor quickly and attack, especially with DeMar DeRozan, Rudy Gay and Kyle Lowry, so we've got to make sure we get back and stop those guys," Utah Jazz head coach Tyrone Corbin told NPH before his team's tilt with Toronto earlier this month.
This vision of Lowry bulling his way up the floor, flanked by the explosive combination of Gay and DeRozan on the wings seems like a lethal fast break waiting to happen, but people are judging this book by its cover.
Over the past few games the Raptors have been able to push the pace a little more and have now risen to 26th in the NBA in pace, meaning the average number of possessions they control in a game. At the time I spoke to Corbin, the Raptors played at the league's slowest pace.
But playing at a faster pace isn't necessarily an improvement. Some of the best teams play at the slowest pace. Then it becomes a matter of how you execute your half-court game.
Part of this slow-down is Dwane Casey's insistence on team rebounding. When a shot goes up, you won't see any Raptors leaking out on the break until the possession is secured (okay, maybe Landry Fields does some cherry picking). But this slow-it-down-grind-it-out style doesn't always work against teams like Chicago who handled Toronto comfortably last Friday even though DeRozan notched 37.
Slowing down the pace has also meant slowing down ball movement overall, resulting in lots of dribbling in isolation before Gay or DeRozan hoists a contested midrange jumper.
Many of these aren't great shots and it shows in the highs and lows of Toronto's star wings. DeMar is taking a career high 18.5 shots per game but shooting a career-low .414%. Same with Rudy shooting 19.7 times per game and hitting just .381%.
Nevertheless both are averaging 20+ points per game and boast career-high scoring averages.
With a big-man rotation consisting of Jonas Valanciunas, Amir Johnson and Tyler Hansbrough playing the bulk of the minutes, the Raptors don't rely on post scoring. Some argue for more touches for Big V, but his time will come. These big men have learned to crash the glass, picking up all the midrange misses for the second-most offensive rebounds in the NBA, which often results in second-chance opportunities.
"You've got to have natural runners… we have a gait that's not conducive to an up-and-down type game," Casey affirmed when asked by North Pole Hoops. "Our wing guys are great athletes but we have to find a running game that fits them."
Swinging the ball will help create movement and space without running, and it starts with Lowry who has stepped up lately with 8, 10, and 10 assists in the past week. It has to spread to the rest of the squad. DJ Augustin and Dwight Buycks haven't proven much yet, but it's still early, and the rest of the squad needs to get in on the passing game because as it stands the Raptors average just 17.1 assists per game as a team, the fewest in the NBA.
There are always going to be improvements, but once this team starts settling into the season we will start to see an identity emerge aside from assumptions. Whether they can start sharing the ball and creating for each other, or pick up the pace to a running game , what they're comfortable with remains to be seen.
But remember – things aren't always what they seem, and sometimes they're better that way.
Raptors Results
Lost to Chicago Friday 96-80.
Key Stat – Raptors made only 29 of 82 shots
Top performer – DeMar DeRozan 37 pts
Lost to Portland Sunday 118-110 OT.
Key Stat – Blazers hit 15 three-pointers
Top Performer – Rudy Gay 30 pts, 10 reb
Win vs Philadelphia Wednesday 108-98.
Key Stat – Raptors season-high 24 assists lead to 14 threes
Top Performer – DeMar DeRozan 33 pts