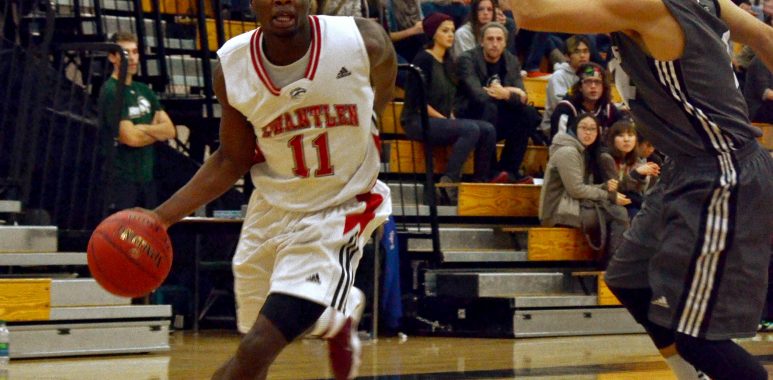 PacWest Week 3 Power Rankings
This past weekend was devoid of upsets and surprises around the PacWest, as the giants still stand tall, but the race for fifth place is heating up.
The top half of this week's rankings remains unchanged, as Vancouver Island University Mariners and Langara College Falcons both swept their respective doubleheaders, while the Quest University Kermodes and Capilano University Blues each split their island road trip.
VIU is still the only undefeated team in the PacWest after picking up a 76-65 win over Quest on Friday then drumming Cap 80-58 on Saturday.
Langara easily handled the Kwantlen Polytechnic University Eagles and Columbia Bible College Bearcats, breaking the triple-digit mark in both bouts and averaging a 47-point margin of victory over the weekend. The Falcons' loss in Week 2 to Quest may have been exactly what they needed, because adding a tally to Langara's loss column is like trying to put out a house fire with gasoline.
Both Langara and VIU should remain unseated next week, as the Mariners stay on the island to face the Chargers, while the Falcons take on the Douglas Royals at home. The biggest test for VIU's undefeated record will come on November 30, when they travel to the mainland to take on Langara in what is set to be the most anticipated matchup of the first semester.
The bottom half of the rankings, however, have been shuffled more than a deck of cards on the $5 blackjack tables at the River Rock.
Douglas bounced back after starting the season 0-3 by picking up a pair of victories – first by squeaking out an 89-82 win over CBC on Thursday night, then taking over the second half against Kwantlen on Saturday, beating the Eagles 81-66 to hand them their fourth-straight loss.
The CBC and Camosun both walked out of the weekend winless, and both squads sit tied with Kwantlen in last place with a 1-4 record.
The four bottom teams – Douglas, Kwantlen, Camosun and CBC – will likely scrap and claw their way through the rest of November and December.
The top dogs – VIU and Langara – are going to have to be hit with haymakers in order to stumble.
Quest and Capilano both possess that punching power, as the Kermodes proved with the previously mentioned 80-77 win over the Falcons on November 11. But it's going to take a sustained run of consistent play that only the Mariners and Falcons have maintained so far.
And the rankings below reflect that.
Week 3 PacWest Power Rankings
| | | | |
| --- | --- | --- | --- |
| | Rank | Prev. Rank | Change |
| VIU Mariners (5-0) | 1 | 1 | – |
| Langara Falcons (4-1) | 2 | 2 | – |
| Quest Kermodes  (4-1)* | 3 | 3 | – |
| Capilano Blues (2-3)* | 4 | 4 | – |
| Douglas Royals (2-3) | 5 | 8 | ↑ |
| CBC Bearcats (1-4) | 6 | 5 | ↓ |
| Camosun Chargers (1-4) | 7 | 6 | ↓ |
| Kwantlen Eagles (1-4) | 8 | 7 | ↓ |
*It's been learned that Capilano has had to forfeit their Week 1 win over Quest due to having an ineligible player on their roster for the game, thus changing their record from 3-2 to 2-3, and Quest's record from 3-2 to 4-1.