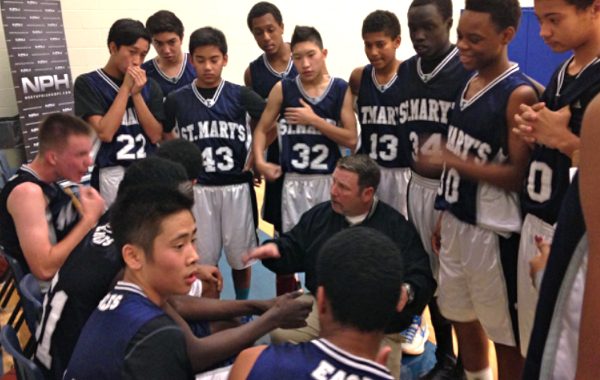 Marcus Carr Erupts for Career-High 47 Points, St Marys Picks up the Victory
After scoring 21 points in the first quarter, it was clear that Marcus Carr was on to a big night.
The ninth grader registered a career-high 47 points in the 72-71 loss to a strong St Mary's team out of Kitchener, Ontario. Carr put on an offensive clinic scoring from everywhere on the floor, attacking the bucket with aggression, while also hitting three-pointers off the bounce and on the catch and shoot.
"The game plan after the first few minutes was 'someone has to stop him' but I think we did a good job of limiting the other guys, St Mary's Head Coach Al Martel told NPH.
"He's an incredible player and it will be a challenge to guard him again," continued Martel.
The St Mike's junior Blue Raiders entered the game with confidence as always. However, St Mary's did not back down.
It was a game of runs that went back and fourth, setting up for an entertaining fourth quarter.
Coach Martel admits travelling to Toronto and picking up a victory as big as this one early in the season serves well for this St Mary's team.
"This experience is invaluable…to realize how strong the competition is outside of Kitchener, it's great for these guys to look for things to improve on and to look for challenges to keep them motivated."
There were times in this game where it could have slipped away from the Kitchener contingent, and almost did late in the fourth quarter, however the group stayed tough and managed to pull away with the win.
"That's what we're trying to teach these guys, to be mentally tough. They need to have these growing pains and make these mistakes so we can help them rise above that," explained Martel.
Adham Eleeda put up a team-high 17 points for St Mary's, including some very clutch baskets in the fourth quarter.
David Nguyen was the designated sniper, that rarely missed from deep, registering 14 points.
Minas Abara and Jason Jaras added 10 and 11 points respectively.
However, it was Barnaba Neil that anchored the defence and cleaned up the boards on both ends of the floor. Neil provided his team with precious second chance opportunities time and time again.
Despite a massive night by Marcus Carr, St Mary's was able to weather the storm.