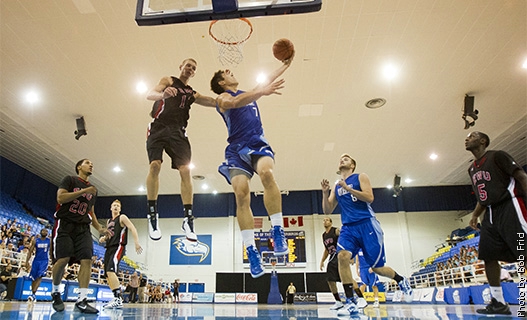 NPH CIS Team Preview: UBC Thunderbirds
Last Season:
| | | | | | | | |
| --- | --- | --- | --- | --- | --- | --- | --- |
| Overall | Pct. | Conf. | Pct. | Streak | Home | Away | Neutral |
| 18-4 | .818 | 18-4 | .818 | Lost 2 | 9-2 | 9-2 | 0-0 |
Canada West Playoffs: Gold medallists
CIS Final 8: 7th place
Key returning players: Tommy Nixon, Brylle Kamen, Jordan Jensen-Whyte, David Wagner, Isaiah Solomon, Conor Morgan, Michael Steele, Andrew McGuiness
Additions:
Tonner Jackson (5th year – Trinity Western University)
Harpreet Randhawa (4th year – Douglas College)
Kedar Wright (St. Edmund Campion – Brampton, ON)
Luka Zaharijevic (Kitsilano)
Departures: Doug Plumb, O'Brien Wallace, Jared Casey
—
Two years ago, UBC's starting lineup looked like a B.C. all-star team. It consisted of four fifth-year players – Nathan Yu, Balraj Bains, Graham Bath and Kamar Burke, while fourth-year sharpshooter Doug Plumb rounded out the rotation.
But that squad went 13-4 in the regular season and drew a supremely talented Alberta Golden Bears team in the first round of the Canada West playoffs (Alberta went on to lose in the CIS championship game against Carleton), ultimately underperforming, given the talent they had on paper.
Last year, guided by an inspired Plumb and a slew of younger players chomping at the bit to prove their worth, the Birds turned in an impressive 18-4 regular season record, but fell short in the CIS Final 8 – succumbing to Acadia in the opening round, and then to their provincial rival UVic Vikes in consolation.
Plumb exhausted his five years and is currently making a splash on the European pro-circuit in Hungary, and now once again a talented young cast of T-Birds eagerly plans to prove what head coach Kevin Hanson had in mind while crafting his recruits over the past few years.
Tommy Nixon, the 6-6 brick house forward from Kitsilano Secondary, is entering his fourth year and will be counted upon as a leader throughout 2013-14. He possesses such a coveted skill set as a 215-pound forward with guard-like handles and a smooth outside stroke. He and third-year forward David Wagner, a brute force in his own right, pose a formidable frontcourt along with another starter from last year – 6-7 Frenchman Brylle Kamen.
Throw in 6-7 Trinity Western University transfer Tonner Jackson into the mix, and UBC will present one of the most deeply-talented post-rotations in the conference.
Jackson is working on a master's degree at UBC, bypassing the CIS' one-year sit-out rule that would normally apply to transfers. He averaged 31 minutes and 16.1 points per game in regular season matchups for the Spartans last season, and elevated those numbers to 35 minutes and 16.7 points per game in TWU's Canada West quarterfinal series against Winnepeg.
"TJ is a tough matchup for a lot of people," said Hanson. "He's strong with the ball, aggressive and rebounds hard – and he's a big, solid kid that can play multiple positions. He's going to play valuable minutes and I think he brings a lot to the table."
While UBC has a rock-solid foundation in the paint, they also boast a varied choice of combo guards – allowing Hanson to experiment and tinker with multiple starting lineups throughout the season until he finds the right formula.
Sophomore guards Isaiah Solomon and Jordan Jensen-Whyte will most likely share ball-handling duties, while trigger-happy swingmen Conor Morgan and Andrew McGuiness will undoubtedly turn War Memorial into Raincouver.
The Thunderbirds recently beat both Laurier and Concordia while hosting their annual preseason tournament, but with early injuries to Morgan and Solomon – the team's depth has been tested right out of the gate.
"Right now we're struggling with guys not knowing their roles because of injuries, and guys are playing out of position – so it's very hard on them," said Hanson. "Some new guys have had to learn to play multiple positions, so our timing isn't really there. But I think we're going to see a lot of growth happen."
The preseason tournament didn't showcase breathtaking basketball, and there are many weaknesses that Hanson was quick to point out as UBC works through this development stage.
"Guys don't know their roles and I still don't quite know those roles either, or who is going to show up on certain nights. I think that there's a lot of guys capable of scoring 20 a night, but we're more interested in sharing the ball, distributing the ball and playing better team basketball," said Hanson.
"But as a coach, your expectations are so high," he added. "You want to be good now, but you have to keep in mind, progressing and building blocks."
It's too early to tell for certain, but UBC should be able to post another impressive regular season record. Hanson commented about the Canada West's Pacific Division being "watered down" in recent years due to expansion, but the usual suspects of TWU, UFV, TRU – and especially UVic – are going present serious roadblocks on the Thunderbird's intended path back East next spring.
"UVic is way ahead of schedule this early in the season, and if they maintain that – they're going to be really tough down the road," said Hanson after the Vikes went 3-0 in UBC's preseason tournament.
"It's good to see what they've got right now – you get your eyes on them and get to know what they do, but we don't play UVic until the end of the season. Things will change an awful lot and players are going to develop."
If the T-Birds do indeed develop and adhere to Hanson's high expectations, they have one of the best shots in the nation to challenge Carleton's recent CIS dynasty – hoping to end the Wet Coast's 41-year drought.