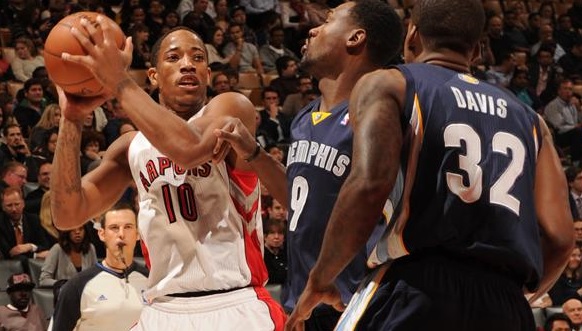 Demar DeRozan Feeling Unguardable, Raptors Move to 6-1 in Pre-Season with Victory over Grizzlies
TORONTO, ON– The pre-season has been a testing ground of sorts for the Raptors' bench as head coach Dwane Casey tinkered with different reserve combinations, especially in late-game situations.
So when asked before Toronto's pre-season tilt with the Memphis Grizzlies, Casey admitted it was probably time for the starters to ramp up their minutes and to get a feel for closing out games.
That plan will have to wait.
No starters played in the fourth quarter in what became a blowout early on as the Raptors (6-1) improved their preseason record with their fifth straight win while losing two starters to injury, neither seemingly serious.
"It wouldn't be preseason if we didn't have any drama right now," Casey quipped post-game.
Valanciunas received three stitches in his chin from a Zach Randolph elbow in the third quarter that weren't even noticeable in the locker room post-game, while Lowry had his left ring finger braced and taped.
On Lowry, Casey said, "We're going to have it examined tomorrow and see what it is, he hit it and it popped out."
Injury scares aside, it was a dominant win for the Raptors over a team that they couldn't beat last year and that advanced to the Western Conference Finals for the first time in club history.
With Jonas Valanciunas playing well against the Grizzlies post all-stars, Kyle Lowry legitimately out-playing Mike Conley, and DeMar DeRozan and Rudy Gay continuing their stellar play, the Raptors took over early and led by as many as 39 points.
"We had to set a tone and we only gave up seven offensive rebounds to one of the top offensive rebounding teams in the league," said Casey. "Our guys met the challenge defensively and that's got to be our personality night in and night out."
DeRozan led all scorers with 21 points after going scoreless in the first frame.
"It definitely was a big game for us and we held our ground," said DeRozan. "[My confidence] is as high as it's ever been. I don't feel like anyone can guard me and I don't worry as much on the offensive end, I know I can score when I want to and I can create whenever I want to or get to the free-throw line."
This growth has been noticed by teammates and coaches as well and Casey says DeMar looks stronger and smarter.
"DeMar has grown as a young man and as a player and tonight he met the challenge," Casey affirmed. "Teams are going at him now defensively, double-teaming, he's taking what the defence gives him, reading the defence and really letting the game come to him."
Before Lowry exited the game he was making strong plays, smart plays and he finished with 10 assists through three quarters of play. Former Grizzlies star Rudy Gay scored 15 and Austin Daye led the Raptors bench with 14.
"I'm getting more comfortable as time goes on," said Daye. "I was in there for a longer stretch and it felt good to come in and knock down some shots high volume."
Former Raptor Ed Davis led Memphis with 11 points and nine rebounds, and Jon Leuer added 11 as well.
With one preseason game left against the Bucks in Milwaukee on Friday, the Raptors will look to continue the rolling…and follow up with similar results in the regular season.
NPH Top Performers
Raptors
DeMar DeRozan 21 pts, 5 reb
Rudy Gay 15 pts, 5 reb
Austin Daye 14 pts (3-3 3FG)
Grizzlies
Ed Davis 11 pts, 9 reb
Jon Leuer 11 pts 5 reb
Jerryd Bayless 10 pts