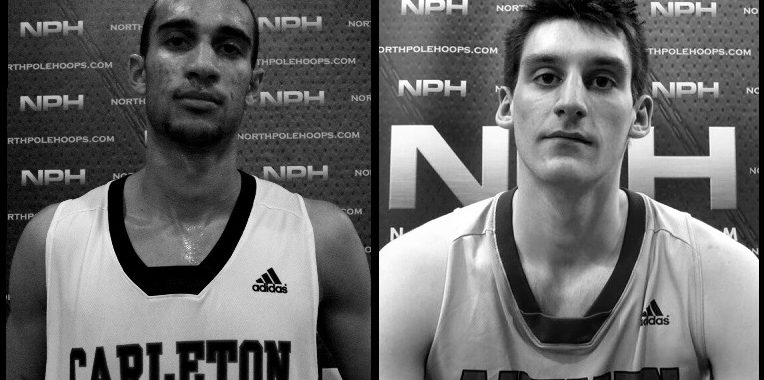 Phil Scrubb or Owen Klassen?
Phil Scrubb or Owen Klassen? Who owns the top spot in Canadian university basketball?
It has been an interesting discussion among the NPH team. Some could argue, "is there even a discussion?" and make a case, in favour of Scrubb.
However, those that have seen Owen Klassen, know that the 6'10 specimen possesses physical gifts that distinguish him from the high majority.
Phil Scrubb Resume @ Carleton University
Phil Scrubb is the most accomplished player in the country.
CIS Rookie of the year
3 CIS National Championships
2-time Nationals MVP
2-time CIS Player of the Year
FISU Team Canada Member
Senior National Team Invite
In addition to his credentials, Scrubb has produced at the highest levels, competing night in and night out in arguably the strongest conference in the country (OUA-East) and producing against NCAA high-major competition including 32 points against Villanova and 32 points, 12 assists on Wisconsin.
Scrubb has made notable progress in his individual development each year. However, when comparing him to Klassen, the question is, has Phil Scrubb maxed out? How much better can he get? What is his ceiling?
Some believe (including us) that Phil Scrubb has a chance to make it into the NBA. The 6'3 point guard is becoming the most decorated player in CIS basketball history; nothing to sneeze at.
2012-2013 CIS Season Stat Line
| Games | PPG | FG % | 3PT % | FT % | RPG | APG |
| --- | --- | --- | --- | --- | --- | --- |
| 20 | 18.6 | 45.9 | 42.6 | 86.0 | 3.2 | 3.4 |
Owen Klassen Resume @ Acadia University
Owen Klassen could be the best PRO prospect in the country.
2011-2012 First Team All-Canadian
2012-2013 AUS Defensive Player of the Year
FISU Team Canada Member
Senior National Team Invite
Owen Klassen does not possess close to the same credentials as Scrubb. So why is this poll even being presented?
Well, the 6'10 forward for Acadia is an extremely interesting pro prospect. In all our travels across North America, we RARELY see players of this calibre and upside. Klassen has the highest upside in the country.
The Kingston, Ontario native is a 6'10 freak athlete with the agility and mobility of a wing player. Klassen is extremely versatile and has shown us glimpses of brilliance on both the interior and perimeter. He can beat defenders off the dribble from the wing, finish at the basket using different moves, and has displayed a dependable shooting stroke.
We recently watched him put up 23 points, and 11 rebounds against McMaster, while showing us there is great room for growth.
With all this being said, it is fair to say that Owen Klassen is only scratching the surface of what he could become, despite the fact that he is a senior at Acadia. The question here is, will Owen Klassen maximize his potential?
2012-2013 CIS Season Stat Line
| Games | PPG | FG % | 3PT % | FT % | RPG | APG |
| --- | --- | --- | --- | --- | --- | --- |
| 16 | 16.3 | 50.0 | 23.3 | 77.5 | 10.8 | 2.5 |
FISU Statistical Comparison
To add another layer to this debate, we have racked up each player's statistics from this past summer with the student national team at the FISU tournament.
Owen Klassen – 6.8 PPG, 7.3 RPG, 0.9 APG, 64% in 18.7 minutes

Phil Scrubb – 5.6 PPG, 3.1 APG, 2.1 RPG  34% in 19.2 minutes
The numbers will show that Klassen has a clear edge over Scrubb with a higher production rate and more efficiency, shooting a blistering 64% from the field. This would be the only time one could measure the two players on the same team…unless of course they represent the red & white on the senior level one day.
The NPH CIS Top 50 National Player Rankings will be released next week, which will reveal our answer to this question, and more.
In the meantime, we would like to know what you think. Be sure to leave your comment below!
[poll id="24″]