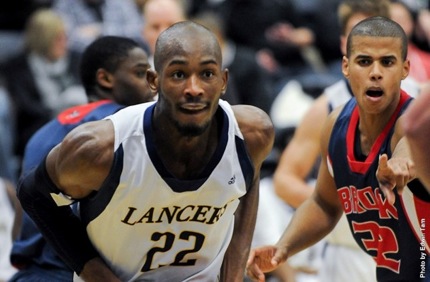 NPH CIS Team Preview: Windsor Lancers
Last Season
| | | | | | | | |
| --- | --- | --- | --- | --- | --- | --- | --- |
| Overall | Pct. | Conf. | Pct. | Streak | Home | Away | Neutral |
| 16-5 | 0.762 | 16-5 | 0.762 | Won 1 | 8-2 | 8-3 | 0-0 |
Head Coach: Chris Oliver
Assistant Coaches: Barry Amlin, Larry Loebach, Greg Allin
2012-2013 Record: 16-5 (OUA)
Key Players: Lien Phillip, Josh Collins, Enrico Diloreto, Evan Matthews
Incoming Players: Mike Rocca, Alex Campbell (Transfer – Niagara College), Mitch Farrell (Transfer – New Jersey Institute of Technology), Khalid Abdel-Gabar (Transfer – Sheridan College)
Departures: Mike Petrella, Michael Godfrey, Joey Ellenberger
WINDSOR, ON – The big question surrounding the Lancers is whether star, Lien Phillip and teammates will bounce back from an unfortunate series of defeats at the OUA Final Four (Ottawa, Lakehead). The OUA West Champion Lancers finished the season ranked 5th in the country but with the loses failed to move on to compete for the National Championship at the CIS Final 8.
The team is coming off the summer with some prowess, winning both match ups against NCAA Division 1 school, Citadel. The Lancers also experienced two nail-bitting defeats against Marshall and Southern; they definitely seem ready to compete coming into the season. Head Coach, Chris Oliver was happy of his team's success in these matchups and the effect it will have for the season, "Our guys are experienced playing at that level. They handled the short training camp leading up to the games and the level of competition. We've had success in previous years because of it."
Coach Oliver will rely on his experienced veterans (Phillip, Collins,Diloreto, Matthews), to lead the Lancers this upcoming season. "Our four veterans are empowered to lead program, we'll go as far as they perform physically and mentally within our season. They've shown great leadership with the newcomers in helping them understand our process and the details of our game," said Oliver. He added, "They all added pieces to their game and continued to develop. They are preparing themselves to have a great year."
Josh Collins, the Lancers catalyst, will be out to prove that he is one of the top lead guards in the nation.
Fifth year power-forward, Lienn Phillip out of Grenada, will look to build upon his personal success from last season. He led the OUA in rebounding (10.6 per game, second in CIS), was named on the OUA West Player of the Year, an OUA All-Star and a CIS Second Team All-Canadian. Coach Oliver said Phillip, along with his veteran teammates are focused and ready to pursue postseason success.
"We play a style that can succeed throughout the season," Oliver stated. The team will continue their exciting style of play (82.0 Points Per Game, tenth overall in CIS) and hope it will lead to success on the hardwood. He believes in the Lancers' talent but consistency in his starters, his bench, and the team's mental strength are key to getting to the next level.
Expectations are high and the team intends to compete at the highest level nationally – will Coach Oliver and the Lancers be in Ottawa come March 2014?
The University of Windsor Lancers first test comes on November 1st as they open the OUA season against Phil Scrubb and the defending National Champion, Carleton Ravens.
Follow Dillon Richardson on Twitter @hi_dillon & NPH @Northpolehoops