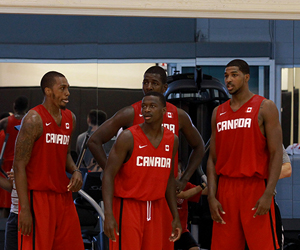 Canada VS Jamaica; Rosters Released, Jamaica Features Dylan Ennis, Patrick Ewing JR, Samardo Samuels
TORONTO,ON–Jamaica will take on Canada in Toronto at the Mattamy Athletic Centre August 8 & 10. The Senior National team has yet to make cuts from their training camp list, however will do so on game day.
Jamaica's roster has been released, which features a Canadian of their own in Dylan Ennis (Brampton, Ontario) entering his sophomore season this fall after sitting out last year due to transfer rules (Rice).
Jamaica will be Canada's first opponent of the summer in preparation for the FIBA World Qualifiers in Venezuela.
NPH caught up with Team Canada at training camp
[youtube NFFX_-zXdnQ]
Tickets to the two games are still available and can be purchased through ticketmaster.ca.
Team Canada Roster pool
| | | | | |
| --- | --- | --- | --- | --- |
| No. | Name | Position | Height | Hometown |
| 3 | Brady Heslip | Guard | 6-2 | Burlington, Ont. |
| 4 | Jermaine Anderson | Guard | 6-2 | Toronto, Ont. |
| 5 | Cory Joseph | Guard | 6-3 | Pickering, Ont. |
| 6 | Kris Joseph | Forward | 6-7 | Montreal, Que. |
| 7 | Andrew Nicholson | Forward | 6-9 | Mississauga, Ont. |
| 8 | Carl English | Guard | 6-5 | St. John's, N.L. |
| 9 | Jevohn Shepherd | Forward | 6-5 | Scarborough, Ont. |
| 10 | Andrew Rautins | Guard | 6-4 | Syracuse, N.Y. |
| 11 | Aaron Doornekamp | Forward | 6-6 | Odessa, Ont. |
| 12 | Myck Kabongo | Guard | 6-1 | Toronto, Ont. |
| 13 | Tristan Thompson | Forward | 6-9 | Brampton, Ont. |
| 14 | Levon Kendall | Forward | 6-10 | Vancouver, B.C. |
| 15 | Joel Anthony | Centre | 6-9 | Montreal, Que. |
| 16 | Philip Scrubb | Guard | 6-3 | Richmond, B.C. |
| 17 | Junior Cadougan | Guard | 6-1 | Toronto, Ont. |
| 18 | Devoe Joseph | Guard | 6-4 | Pickering, Ont. |
| 19 | Kyle Landry | Forward | 6-9 | Calgary, Alta. |
Please note: the 12-man rosters for each game will be decided on game-day

Team Canada Staff
| | |
| --- | --- |
| Name | Position |
| Jay Triano | Head Coach |
| Kelvin Sampson | Assistant Coach |
| Greg Francis | Assistant Coach |
| Dave Smart | Assistant Coach |
| Sam Gibbs | Therapist |
| Charlie Weingroff | Strength and Conditioning Coach |
| John Philpott | Team Doctor |
| Andrew Pipe | Team Doctor |
| Jeremy Cross | Team Manager |
| Kade Beard | Video Co-ordinator |
| Scottie Stats | Team Statistician |

Team Jamaica
| | | | | |
| --- | --- | --- | --- | --- |
| No. | Name | Position | Height | Hometown |
| 4 | Dylan Ennis | Guard | 6-2 | Brampton, Ont. |
| 5 | Adrian Uter | Forward/Centre | 6-8 | Manchester, Jamaica |
| 6 | Patrick Ewing Jr. | Forward | 6-8 | Boston, Mass. |
| 7 | Garfield Blair | Guard/Forward | 6-5 | Orlando, Fla. |
| 8 | Weyinmi Rose | Guard | 6-9 | New York, N.Y. |
| 9 | Akeem Scott | Guard | 6-2 | New York, N.Y. |
| 10 | Durand Scott | Guard | 6-5 | New York, N.Y. |
| 11 | Lynford Brown | Guard | 6-3 | Spanish Town, Jamaica |
| 12 | Michael Rogers | Forward | 6-5 | Kingston, Jamaica |
| 13 | Adrian Forbes | Forward/Centre | 6-9 | Spanish Town, Jamaica |
| 14 | Samardo Samuels | Forward/Centre | 6-9 | Trelawny, Jamaica |
| 15 | Christopher Walker | Forward | 6-6 | Kingston, Jamaica |

Team Jamaica Staff
| | |
| --- | --- |
| Name | Position |
| Ajani Williams | General Manager |
| James Sam Vincent | Head Coach |
| Richard Polack | Acting Head Coach |
| Elfraito Remikie | Senior Team Co-ordinator |
| Melissa Farquharson | Team Administrator |
| Melita Moore | Team Doctor |
| Roger Chisholm | Equipment Manager |
| Ricardo Hayles | FIBA Referee |