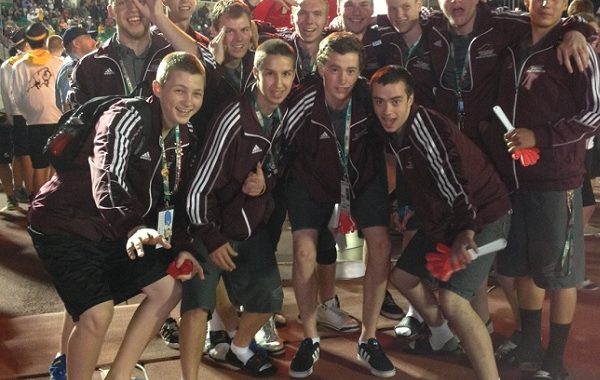 Brett Warren, Christian Greenland & Team Newfoundland Make History, Defeat British Columbia
Newfoundland is on the basketball map…and it didn't take too long.
In their first match up at Canada games against British Columbia, the East met West; and while NFLD is the underdog virtually every time they step on the floor, the team sure didn't lack confidence, defeating BC 78-65 in a come from behind victory.
Lead guard Brett Warren (Booth Memorial) spearheaded the attack with great efficiency, putting up a game-high 28 points, seven rebounds and seven assists, on 9/16 from the field and only two turnovers.
Christian Greenland (Gonzaga) added 15 points (5 3s), while Cole Long (Booth Memorial) and Steve Ryan (Mount Pearl) contributed 14 points apiece, along with key defensive plays to swing momentum.
Newfoundland was down by as much as 13 at half time, but were shooting a lowly 13% from the three-point line. As a result, the kids never wavered, instead remained tough, "They're Newfies, they are tough as nails," explained Head Coach Erica Kennedy. "We might not be able to out jump, but we get our asses in the way."
"This is big for our program…we  probably shocked some people, but didn't really shock ourselves, everything is going according to plan."
This is the first time that Newfoundland has ever beaten BC, and they did it in front of approximately 500 people in the late night game, which Coach Kennedy described as being "a great vibe."
"It was a huge come from behind win, but we never felt it was the biggest game of our lives, entering the game."
The Team Newfoundland program has been a work in progress, with the coaching staff preaching toughness, focus and attention to detail.
"They put in a lot of work, and have been together for  three years," Kennedy said of her current group.
The seriousness of this basketball trip is evident through the team's lack of communication with their peers, "No phone, no internet, no access to the outside world."
They have taken their hits in the past, and could take more in the future, but for now they will enjoy the victory for a few hours before entering the pit against a strong Quebec team.
"They are the real deal."
And Newfoundland is no slouch either.