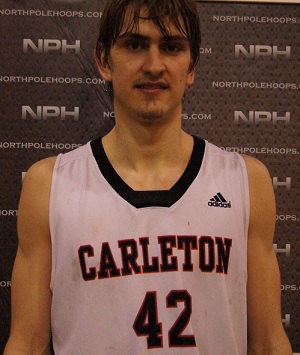 Carleton Ravens Take Down First NCAA Opponent, Defeat Towson 67-41…Tyson Hinz Game-High 24
OTTAWA,ON–The reigning CIS National champion Carleton Ravens took down their first opponent from the South, in Towson University (NCAA/ Colonial League) by the score of  67-41.
Tyson Hinz led all scorers with 24 points, to go along with three rebounds and two steals. Kevin Churchill added 10 points and six rebounds.
The Ravens were without Phil Scrubb, NPH #1-ranked CIS player in the country.
On the flip side, Towson was without three of their starters. The Tigers overall NCAA record last season was 18-13, while holding a 13-5 conference record, good for second in the Colonial league, behind only Northeastern.
This was Carleton's first game in nearly five months, when they were last crowned back-to-back Canadian University champs. With this victory, they open pre-season on a positive note, with three more game coming up against NCAA competition.
The Ravens will take on TCU (BIG 12) on August 11, and follow up with two big tests in Wisconsin (BIG 10) on August 21, and Syracuse (ACC) August 23; these three match ups against big conference teams will be the ultimate measuring stick for the CIS contingent, and will serve as great entertainment for the city of Ottawa.