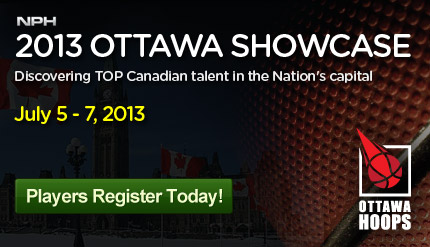 NPH Ottawa Showcase Prospect List + Schedule Released!
The NPH Ottawa showcase taking place July 5-7 at Carleton University, is right around the corner! The following info will provide a look at the full event schedule and expected prospects to be in attendance.
Registration will begin at 5PM on Friday, July 5, followed by introductions and goals of the NPH showcase.
Merrick Palmer will open day one with dynamic warm ups and stretching, to prepare athletes for a competitive and educational weekend. Palmer, a CIS National Champion (St. FX), is currently the Technical Director for the Ottawa Skyhawks (NBLC) and is the owner of Capital Courts training center.
Throughout the weekend, players will soak in knowledge regarding the recruitment process, social media, nutrition, talent evaluation, game film and more, including guest speakers including Carleton Ravens Head Coach Dave Smart, and Ottawa's own Marial Shayok (NPH Top- 5 Prospect)
The NPH Ottawa showcase is designed to bring the basketball community in the nation's capital TOGETHER– to communicate, learn and ultimately continue aiding in growth of the game.
This will be a great opportunity for young prospects seeking national exposure, player development and an unforgettable experience, that will aid in growth as a player and person.
CIS Coaches confirmed [to evaluate talent] thus far include Carleton, Ottawa, McGill and Queens.
Coaches
Dave Smart (Head Coach Carleton Ravens) – Guest Speaker
Andy Waterman (Ottawa Phoenix) – Camp Instructor
Merrick Palmer (Ottawa Skyhawks/ Capital Courts)
Aaron Blakely (Ottawa Guardsmen) – Camp Instructor
Tyson Hinz (Carleton Ravens) – Camp Instructor
Gavin Resch (Carleton Ravens) – Camp Instructor
Leo Doyle (Ottawa Shooting Stars) – Camp Instructor
2 Ottawa Gee-Gees (TBD) – Camp Instructors
Players Register Today
Cost: $130.00
[contact-form-7 id="10467″ title="Contact form 1″]
NPH Ottawa Showcase Schedule
July 5: 5PM-9PM
July 6: 9AM-5PM
July 7: 9AM- 12PM
NPH Ottawa Showcase Prospect List
The prospect list list will be updated throughout the week, as more players confirm their spots within the next few days.
| | | | | |
| --- | --- | --- | --- | --- |
| Name | Class | Height | Position | School/ Club |
| Ryan Challinor | 2013 | 5'10 | G | Colonoel By/ Ottawa Guardsmen |
| Nate Newbold | 2014 | 6'1 | PG |  Sir wilfred laurier/ Wolverines |
| Michael Otoo | 2014 | 5'10 | PG | A.Y Jackson/ Kanata Cavaliers |
| Aaron Bannerman | | 6'1 | G | Mother Teresa |
| Fraser Curry | 2014 | 6'2 | SG | Woodroffe/ Ottawa Guardsmen |
| Anuj Arora | 2013 | 5'10 | G | Lisgar Collegiate/ Uottawa Next Level |
| Ricardo Belony | 2015 | 5'8 | PG | Samuel Genest/ Ottawa Guardsmen |
| Dyon Mason | 2014 | 6'1 | G | Sir Wilfred Laurier |
|  jonathan asedri | 2014 | 6'2 | SF | college catholique samul-genest/ Next Level |
| Parfait Kingwaya | 2015 | 5'11 | G | St Patrick's/ Ottawa Shooting Stars |
| Steve Nkusi | 2014 | 6'2 | SG | Ecole Secondaire Catholique Garneau/ Wolverines |
| Sylvain Mbuyamba | 2013 | 6'0 | G | Immaculata/ Gloucester Wolverines |
|  Brendan Stoqua | 2015 | 5'10 | PG | Sacred Heart/ Ottawa Next Level |
| Yoel Debessay | 2014 | 6'0 | SG | Sir Wilfred Laurier/ Ottawa Next Level |
| Michael Soy | 2015 | 5'7 | SG | St. Patrick's / Ottawa Celtics |
| Roark Brookson | 2015 | 5'5 | SG | St. Michael CHS/ Ottawa Phoenix |
| Cole Brookson | 2013/2014 | 6'3 | SG | St. Michael CHS/ Ottawa Phoenix |
| Abdilaziz Adam | 2013 | 6'0 | G | Nepean |
|  Bashier Ahmed | 2016 | 6'3 | SG | Woodroffe HS |
| Thomas LeGallais | 2015 | 5'11 | SG | Holy Trinity /Cornwall Lions |
| Michael James | 2015 | 5'7 | SG | St Patrick's/ Ottawa Celtics |
| Mohamed Elmi | 2015 | 6'0 | SG | Woodroffe/ Shooting Stars |
| Dualeh Elmi | 2016 | 6'4 | SF | West Carleton/ Kanata Cavaliers |
| Peter Dimov | 2014 | 6'4 | SF | Louis Riel |
| Luis Puente | 2017 | 5'10 | PG | Lester B Pearson |
| Yasiin Joseph | 2015 | 6'0 | PG | Glebe C.I |
| Hanad Yusuf | 2015 | 5'9 | PG | Louis Riel/ Ottawa Phoenix |
| Antony Flores | 2014 | 5'11 | G | Glebe/ Ottawa Pheonix |
| Ameer El Badry | 2016 | 5'11 | G | Immaculata/ Ottawa Guardsmen |
| gnakoye gnekoyamou | 2017 | 6'3 | G | Nicolas-Gatineau/ Team Quebec |
| Emmanuel Munaku | | 6'0 | PG | Brampton Centennial/ Brampton Warriors |
| Sam Pierson | 2017 | 6'1 | PF | Holy Cross/ Kingston Impact |
| Tariq Bansfield | 2015 | 5'11 | PG | Mother Teresa/ Ottawa Next Level |
| Jacques Lukusa | 2016 | 6'0 | PG | Immaculata |
| Shandon Ashitei | 2017 | 5'10 | PG | St. Matthew's/ Ottawa Phoenix |
| Quintin Ashitei | 2017 | 5'9 | SG | St Matthew's/ Ottawa Phoenix |
| Ben Sharara | 2015 | 6'2 | G | St Patrick's / Titans |
| Adam Costanzo | 2014 | 6'3 | PF | Nepean/ Ottawa Next Level |
| Hanad Yusuf | 2015 | 5'9 | PG | Louis Riel/ Ottawa Phoenix |
| Mohamad Awada | 2014 | 5'10 | SG | Louis Riel/ Ottawa Next Level |
| Elhadj Barry | | 5'10 | SG | École secondaire de l'ile/ Dragon AAA |
| Abdilaziz Adam | 2013 | 6'0 | G | Nepean |
| Jackson Bayles | 2017 | 5'9 | PG | BCI/ Brockville Blazers |
| Simon Desta | 2017 | 5'7 | SG | St. Patrick's High School/ Ottawa Phoenix |
| | | | | |
| --- | --- | --- | --- | --- |
| Eddie Ekiyor | 2016 | 6'8 | F | Mother Teresa |
| | | | | |
| --- | --- | --- | --- | --- |
|  Emmit Till | 2016 | 6'5 | PF | Mother Teresa |
| Ephraim St-Paul | 2013 | 5'10 | PG | Notre Dame |
| Tamah Mondesire-Grant | 2013 | 6'3 | SG | Blessed Cardinal Newman |
| Joshua Minkutu | 2016 | 6'0 | SG | Samuel Genest |
| Dominique Calixte | 2016 | 5'7 | G | Mother Teresa |
| Sean Dodds | 2014 | 6'3 | SG | Hillcrest/ Ottawa Guardsmen |
| | | | | |
| --- | --- | --- | --- | --- |
| DeNiro Gibson | 2016 | 6'3 | PF | St. Patrick's / Ottawa Guardsmen |
| Austin Macklem | 2015 | 5'11 | PG | Bayridge/ Kingston Impact |
| Ben Streatch | 2014 | 5'10 | PG | South Carleton/ Ottawa Next Level |
| | | | | |
| --- | --- | --- | --- | --- |
| Derek Platt | 2014 | 6'3 | SG | Bayridge/ Kingston Impact |
| Braeden Wilkinson | 2013 | 6'0 | PG | St. Patricks/ Ottawa Guardsmen |
| | | | | |
| --- | --- | --- | --- | --- |
|  Kevin Metelus | 2015 | 5'10 | SG | Merivale/ Ottawa Next Level |
| Umed Hyderi | 2015 | 5'6 | PG | Merivale/ Ottawa Next Level |
| Thomas Aufleger | 2014 | 6'1 | G | Cairine Wilson/ Ottawa Guardsmen |
| Alston Harris | 2018 | 5'3 | PG | St. Patricks/ Ottawa Phoenix |