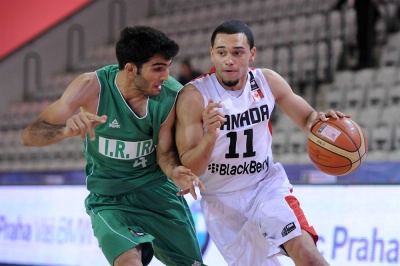 Junior Team Canada
Team Canada
Without Wiggins, Junior Nats Takes on the Giant: All Eyes on Canada VS USA
The Canadian Men's Junior National Team now holds a 3-3 record at the FIBA World Championships, with victories over Korea (2-4), Iran (1-5), and Argentina (1-5). Three losses have come against the upper echelon in Spain, Croatia and Lithuania–all holding a 5-1 record.
Canada is now among the top eight teams in the world as they have advanced to the quarter-finals, set to tip on Friday July 5.
The next opponent will be the giant, that is the United States of America, loaded with 'big time' talent featuring Marcus Smart, Aaron Gordon, Jahlil Okafor and Justice Winslow to name a few–all of which are averaging double figures in scoring for Team USA.
The USA is the only undefeated team left in the World Championship tournament, sitting at 6-0 entering Friday.
[youtube]AvRNgPQC-1w[/youtube]
Canada, at 3-3 have been lead by Tyler Ennis and Trey Lyles who have stepped up in the notable absence of Andrew Wiggins. Ennis and Lyles currently rank number two (21.3 PPG) and number three (19.5 PPG) in the world in scoring.
Worthy of note, the Americans do not suit up notable players such as Julius Randle and Jabari Parker to name a few.
But the 6'8 Wiggins has become a guiding light and rallying point for the future of Canadian Basketball. The projected first overall pick in the 2014 NBA draft has been labelled many things, but always a patriot and always proud to represent Canada.
When I spoke to Wiggins at the JMNT Red Vs White intrasquad game one year ago he said, "Playing for Canada is an honour and a pleasure. I love it, representing Canada wherever I go."
Wiggins is currently representing at Kansas for his one-and-done college career, and opted out of national team play to focus on a summer of preparation with the other new Jayhawk recruits.
As the junior national team enters battle in what is arguably the biggest game of their lives to date, Wiggins would have come in handy in times like this.
Despite this major absence, the JMNT has put themselves in position for an opportunity at a colossal upset, but they will need their best effort of the tournament, as a team.
"I think we have a good group," said Ennis, following this year's Red & White Game. "We're real deep at every position. I just think we have to come together a little quicker than last year, build chemistry and get tough."
The depth will be a vital component, especially when it comes to competing against the Americans, where they will attack from all cylinders.
"It's obviously difficult when you have one of the best prospects in the world and he could play in this age group but he's decided to focus on school," said head coach Roy Rana of Wiggins.
"I love the kid. He's been great. He's represented Canada twice already [in FIBA competition], he's represented Canada twice at Nike Hoop Summits and Global Challenges so he's put in his time and he's a passionate Canadian."
Though his teammates and friends miss him, they understand his decision and look forward to increased roles while playing on the world stage.
"I'm not hurt, I was a little bit sad as he's one of my best friends but I know where he's coming from having to prepare for college and the draft the next year," said Xavier Rathan-Mayes, Wiggins high school teammate.
Rathan-Mayes has been the third leading scorer behind Ennis and Lyles, averaging 11.5 PPG, and seemingly looking to distribute as he registered a tournament-high five assists against Iran.
Forward Trey Lyles also acknowledged that he and several other core players will have to step up in the absence of Wiggins. Perhaps it will be best for the team in the long run.
But in the meantime, all eyes will be on Canada vs USA this Friday, in a match up for bragging rights along with advancement to the semi-finals of the World championships.
Do or die.
[poll id="21″]