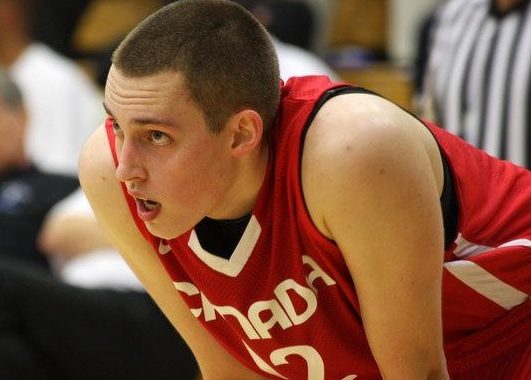 Kyle Wiltjer Free Throws Lift Canada over NetScouts USA All-Stars for 2-0 Start
Jay Triano has opened his return to Team Canada with two victories for the Development National team; 70-66 over China, and 75-73 over NetScouts USA All-Stars, thanks to a pair of Kyle Wiltjer free throws to seal the deal.
This team is currently competing in the 4 Nations tournament hosted by China, in preparation for the FISU games.
Kyle Wiltjer (Kentucky) and Jordan Bachynski (Arizona State) lead Canada against China with 11 points. Dwight Powell (Stanford) added 10 points.
The following are stats for game two against the USA. Next up is Latvia.
Team Canada Stats VS. USA (Courtesy of NetScoutsBasketball.com)
Kevin Pangos, G (Gonzaga) 5 points, 4 rebounds, 3 assists
Brady Heslip, G (Baylor) 7 points, 3 rebounds, 1 steal
Kyle Wiltjer, F (Kentucky) 17 points, 3 rebounds
Melvin Ejim, G (Iowa State) DNP
Thomas Scrubb, F (Carleton) 11 points, 4 rebounds
Mangisto Arop, G (Indiana State) 0 points, 1 rebound
Laurent Rivard, G (Harvard) 0 points, 4 rebounds
Philip Scrubb, G (Carleton) 8 points, 3 rebounds
Dwight Powell, F (Stanford) 16 points, 4 rebounds, 1 assist, 1 steal
Jordan Bachynski, C (Arizona State) DNP
Murphy Burnatowski, F (Colgate) 0 points, 2 rebounds
Owen Klassen, F (Acadia) 4 points, 6 rebounds
Daniel Mullings, G (New Mexico State) 7 points, 3 rebounds, 2 steals
Grant Mullins, G (Columbia) DNP
*With 15 players on the roster, Team Canada is sitting out three each game and rotating.*