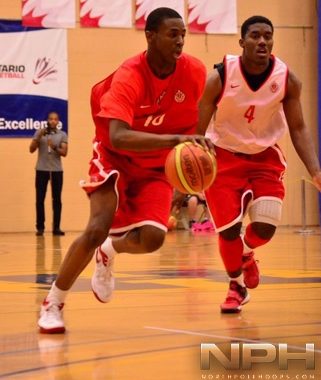 Andrew Wiggins Out for U19 World Champions…Who Fills In?
As most in the basketball world would have heard by now, Andrew Wiggins will not play on the U19 Team Canada squad this summer, who will be competing at the FIBA world championship. If you haven't heard yet, read on.
According to Canada Basketball, Wiggins has decided to spend the summer preparing for his freshman year at Kansas, which will more than likely be followed by the NBA draft.
For all you Canadian basketball junkies, do not be alarmed…Wiggins is simply doing what he feels is appropriate in preparation for his pro career, which takes precedence over everything.
As Rowan Barrett [Canada Basketball Ast. GM] stated, "Andrew has a long basketball career ahead of him. Andrew's decision to prepare himself this summer for the upcoming season is a decision we acknowledge."
Before some people jump the gun, understand that Wiggins has always been pro-Canada and represents the country every time he touches the floor– international competition or not.
With Wiggins absence, it is not a true representation of the Junior National team, however this will provide an opportunity for others to step up at the wing spot, and make a name internationally.
Just to be clear, nobody can replace Wiggins, however the following are potential names that can fill in:
Who Fills In?
MiKyle McIntosh signs with Illinois State University

Mikyle McIntosh – Big Mac was not on the junior national team last year, but in my opinion would be the best candidate to fill the void. Strength, athleticism and an ever evolving skill set. Not only would he be a strong option, the international experience would do wonders for his personal development, heading into Illinois State for his freshman year in September.

Conor Morgan- Was on the roster last summer, received very limited playing time, but after his freshman year at UBC, it will be interesting to see how he's developed.
Jamal Reynolds- Another returnee, Reynolds was efficient in his playing time, averaged 4.5 PPG, including 11 points in 18 minutes against Puerto Rico. After a season at Howard Junior College, JR will be eager to make his name relevant once again.
Joe De Ciman – Has been involved with the national program in the past (Cadet), and is coming off freshman year with Colorado State which would be the first year where he received intense head-to-head competition all year round. CSU would advance to the third round [Midwest Region] and lose in the NCAA tournament to eventual national champion Louisville.
Marial Shayok– The youngest of the mentioned options. Shayok [NPH #3-Ranked 2014 prospect] and the top wing in the class does not lack any of the necessities for a legitimate shot at making this team. International experience, length, athleticism and scoring prowess.
Outside of Wiggins…Trey Lyles, Tyler Ennis and Xavier Rathan-Mayes lead the team in production last summer, and will be back. The following is the full list of camp invitees.
The Junior National Team Camp begins tonight. Follow along on Twitter @Tariq_NPH & @NorthPoleHoops