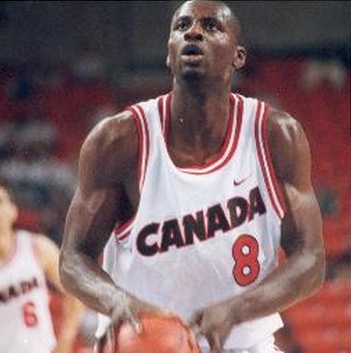 NPH Trailblazers: William Njoku – From Canadian University to the NBA Draft
NPH Trailblazers is a segment being introduced to Canada that illustrates the careers of influential figures of the past, who have paved the way for the present and future of Canadian basketball.
We would like to introduce you to 6'9 William Njoku out of Halifax West Secondary.
The Saint Mary's University star earned CIAU (CIS) all-Canadian honours, along with a Mike Moser Award (Most Outstanding player) in his junior year.
From SMU, Njoku was the first and only player to be drafted into the NBA from a Canadian University [in the modern draft selection process], to the Indiana Pacers (41st pick) in the 1994 draft.
The 1994 NBA draft is highlighted by Glenn Robinson, Jason Kidd, Grant Hill and Jalen Rose to name a few.
Njoku is a transcendent and inspirational figure for Canadian basketball that many are not informed about, as he is proof that there is hope of achieving the unthinkable, against all odds. He is now a motivational speaker for his company [Will 2 Win] and the athletic director at Crandall University.
On May 2, he was informed that he will be inducted in the Saint Mary's University Sports Hall of Fame October 5, 2013.
Enter William Njoku.
NPH: You started your high school career at Halifax West, how was the high school ball there in Nova Scotia?
WN: Oh…amazing. When I was in high school, we won two tournaments in New Brunswick, a number of tournaments in Nova Scotia; the competition was very very high, very very strong. My last two years of high school, we had five guys go to the CIS. Programs were crammed with talent St Pat's, Cole Harbour and others…we were all such rivals and the fan base was enormous because basketball was so good, and there was the size element that isn't as prevalent in high schools now.
NPH: Do you get a chance to watch any HS or CIS? How has the scene changed since you were playing?
WN: I coach high school basketball and I drive to Frederiction to watch CIS, or I'll drive to Halifax. I definitely enjoy watching the competition. I think the talent is still strong because there are more kids playing and more taking it seriously. They are practicing more and when you do that , you're getting better, faster. The size of the players has levelled out; there isn't anyone that can really score tremendously because of their size but in my my era, you had a 6'8, 6'9 guy who was a dominant player, a national team player or something like that…which created a big man battle. But times have changed, that calibre of talent now, may not be playing in Canada.
NPH: How was your experience playing on the national team? Which players have been most influential?
WN: Played Against – Oscar Schmidt (Brazil) because he was such a prolific scorer. Our game plan was to not let him get his right arm up. Why I say that is influential is because one, to be able to shoot like that is an unbelievable skill and ability–two, I've never heard of a game plan where we try to stop a player from moving up a body part…it was just insane.
WN: Played With – Dwight Walton keeps coming to mind because I learned how to approach training, he was the veteran on the team but also like a brother. I had a good work ethic but he helped me take a more relaxed approach to it, and we also hung out. I learned a lot about how to carry myself as an international pro and athlete.
NPH: So you were drafted into the NBA, but what was the process like leading up to the draft?
WN: I was engaged by an agent in Philadelphia named Steve Coughlin and I signed an NBA agent contract and he put my name in there. And Marty Black (rest in peace) he had seen me play at the 1991 World junior championships and actually made a comment in the newspaper the next day about me. When my name came again a few years later, he remembered me. My agent then got me a workout with Pheonix, had an amazing work out and they were impressed. We sent my video out to other teams and before I knew it they were inquiring to have me come to their cities and work out for them.
When the draft approached, my agent was telling me that the Phoenix Suns were going to draft me 51st, which was shocking to me and pretty surreal; it actually caused me a lot of anxiety because I just didn't know what was going on. On draft night I was with some teammates at a sports bar, (Dwight Walton was there) and Indiana picked me 41 and I had no idea because they had not contacted me before. But they had seen my video and were impressed enough that they wanted to draft me 41st.
NPH: What was the feeling like, as the first player to be drafted from a Canadian University? [in modern draft selection process]
WN: It was probably the most stressful moments of my life. It was bad stress…my own personal energy was sort of shock, confusion and disbelief. As talented as I was, I never really believed in myself so when that announcement came I think it put more pressure on me. In the environment I was in at the time, I allowed some negative energy to effect me as well, and that didn't help.
It was a stressful situation because I was home on vacation away from the national team and my brother went into the hospital and passed away a few days later, and then the world championships were starting in 10 days so the championships were sort of a blur. Then I went to France six days later and things didn't really pan out for me there either; it was a very stressful three months.
I think it was the first time when I realized how good I was, when I was trying out in the NBA and it sort of bothered me because I had never been told that [I was that good], or even realized it before myself. But seeing that level inspired me to be doing what I do now, which is letting kids know that the skills and abilities that their learning now in Canada is equal to what is being taught in the States and there's no reason why any player should think that it's impossible to play in the NBA. In a different era if I had these experiences, I know I'd be in the NBA.
NPH: It seems like a perfect job for you to be a Motivational speaker…how did it all start?
WN: Well…I was asked to do weekly classes and lessons for kids and I did that. The way that I taught the kids and the philosophies used really impressed the parents and some of those parents were teachers so they asked me to come to their classroom to use the same methods. Once I did that a couple times, I realized that I'm solving a problem for somebody, which sounded like it could be made into a business…so that's how it all began.
NPH: You played all over Europe; Which experience was most memorable? Did your travels play a significant role in your growth on and off the floor?
WN: I had the most fun when I was in Germany. I learned the most about myself and culture when I was in Turkey. I was challenged the most on the basketball court when I was in Belgium. Kids really have to understand that the sacrifices their making to become a better athlete is also going to make them a better person; the opportunities that are provided through sacrifice is something that's going to be with you for the rest of your life. The influence by so many people gives you a world view that is so broad and allows you to be a true ambassador for the human race, and that's what sport is really about–having our character polished through sport.
NPH: What can you say to the current players in the CIS as far as professional basketball aspirations are concerned?
WN: To Warren and future guys…to trust themselves and trust in what they've learned, trust in the sacrifice that they've made. For future kids…seek opportunities to learn, watch videos online, watch games, study players, study the game, read books, not just playing. There's so much information that you can get for free online that can help you learn skills…and then commit to it. If you're not having fun learning the fundamentals of the game, then you're not going to develop. If you don't have competence, then you don't have confidence.
NPH: With regards to the national team, how excited are you about how things are shaping up as you've watched the growth of the program?
WN: I can sum it up by saying that I will be in Brazil in 2016; I'm confident Canada will be there.