Canadian Forwards Anthony Bennett, Kelly Olynyk On Top of NBA Draft Board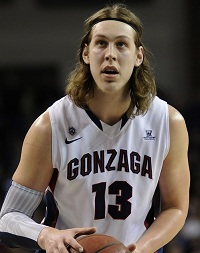 With the NBA draft just over a month away, where do these two Canadians stand?
Both Anthony Bennett (Brampton, ON) and Kelly Olynyk (Kamloops, BC) made a mark this past season for their respective teams.
Bennett earned Mountain West freshman of the year honours, averaging an efficient 16.1 points and 8.1 rebounds per game for UNLV.
He recently had surgery on his shoulder which is not expected to affect his draft stock, as GM's have stated "He's one of the most NBA-ready prospects in the draft."
Gonzaga's Olynyk reinvented himself following a red-shirt year, and pounded the paint–so much so, that some have forgotten about his perimeter abilities.
Olynyk shot an impressive 62.9% from the field, good for third in the NCAA while averaging 17.8 points 7.3 rebounds and 1.7 assists per game.
David Aldridge, (NBA.com) has the two Canadian forwards at number one and two for their position in his NBA draft big board, with insight from around the league — NBA coaches, scouts and executives.
Read Full Story Here.