Canadian Guard Justin Edwards Transferring from Maine; Hot Commodity on Recruiting Scene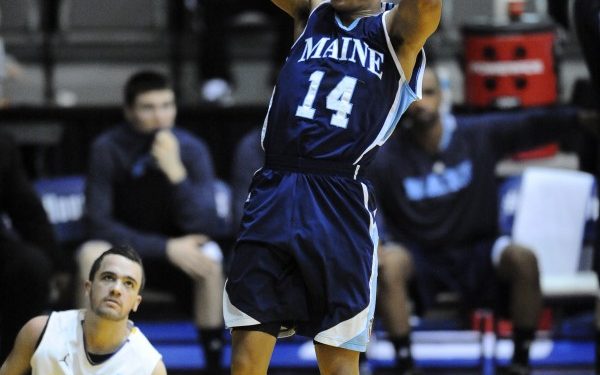 The leading scorer of the America East Conference will be transferring schools…Justin Edwards is no longer a Maine Blackbear, as he announced earlier this week.
"I love my teammates, the people and the coaches but this is a decision I had to make for my future," Edwards told NPH. "This experience was great, to play right away, it helped me know I can play at a high level."
After two strong seasons at Maine, the Canadian scoring guard is looking to compete in a bigger conference for more exposure and to be tested on a game-to-game basis.
Following a freshman campaign that was one of the best in program history, Edwards was named CollegeHoops.net America East Rookie of the Year and named to the All-America East Rookie Team. The Whitby, Ontario product made his splash on the national radar in his first year averaging an impressive stat line of nearly 14 points per game, 5.6 rebounds and 3.3 assists.
Edwards will be leaving Maine as the leading scorer in the conference at 16.7 points, to go along with 5.2 rebounds, 3.4 assists and nearly two steals per game.
"I'm a player that likes to be pushed, knowing that I can rise to the occasion," Edwards explained.
In non-conference games, Edwards has proven to be effective against the high-majors. Against Florida State this season, he recorded a game-high 19 points, 12 rebounds and five assists. Last season, he put up 20 points and five boards against Jeremy Lamb and the #4-ranked UConn Huskies.
It didn't take long before fellow Canadians started recruiting, mentioning that both Dyshawn Pierre (freshman at Dayton) and Brady Heslip (junior at Baylor) have reached out. Pierre and Edwards complimented each other throughout their high school careers, winning back-to-back provincial championships together at Anderson.
A natural scorer, Edwards will focus on expanding his game by improving his shooting, while working to become a stronger on-ball defender.
"I compete everyday 100%, always willing to get better, take criticism and take what coaches tell me…I love to be challenged," Edwards explained.
The Canadian guard is a hot commodity on the recruiting scene and will be a very serviceable piece wherever he lands. In the meantime, he will have a year off following the transfer; an extended "offseason" that will naturally knock Edwards off the map…temporarily.
"Im looking forward to it, I'll have time to work on my game; it's okay that people will forget about me," said Edwards.
"I'll come out stronger."