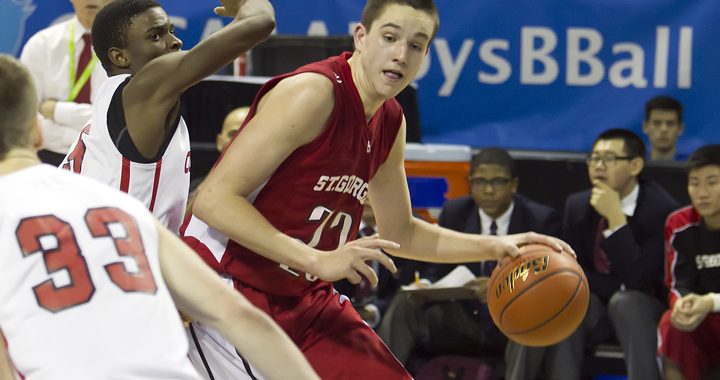 Drew Urquhart, Tylon Barker Shine…St Georges Emerging as Serious Contender?
Follow Tariq_NPH & @NorthPoleHoops on Twitter for LIVE coverage
LANGLEY, BC–St Georges could do it. After watching over twelve hours of basketball in the last two days, the Saints look very equipped to capture a British Columbia provincial championship, after taking care of business against Claremont 93-80.
In their first game of the tournament, the Saints proved to have multiple weapons at their disposal beginning with their star player, junior Drew Urquhart. The 6'7 small forward cranked up a monster double-double of 26 points and 21 rebounds.
Urquhart displayed a great deal of versatility scoring off the bounce in a variety of ways, including a hesitation dribble that took his defender off his feet, followed by a penetration for the two hand flush.
Urquhart is currently being recruited by Boise State, Utah St, Utah and should be garnering more interest in the near future. He is a very unique prospect due to his combination of size and polished skill set.
St Georges took advantage of countless fast break points, as rebounders immediately looked for the leaker on the outlet pass. The independent league champions' discipline, offensive power and coaching is a recipe to 'upset' Yale, their next opponent.
"I think we've worked hard enough and I think we have the players to do it," 6'5 Small Forward Tylon Barker told NPH. Barker had a very strong game registering 24 points and 12 rebounds with great efficiency, shooting 9 of 15 from the field.
Not many are expecting the Saints to make a deep push, however Barker seems completely content after being asked if his team feels underrated.
"Honestly we do, but I like being a dark horse though and coming up from the bottom."
Deklun Chung shot it well and was able to penetrate, displaying great body control en route to 21 points , four rebounds and three assists.
For Claremont, Callium White nailed four triples for 21 points. However it was Mason Loewen who briefly stole the show, following a two hand smash from the baseline on two defenders. Throughout the entire game the 6'2 guard showed a knack for getting in the lane and acrobatically finishing plays.
Despite a game-high 27 points, seven rebounds and five assists from Loewen, St Georges was disciplined in their attack and will move forward to the final eight round.
Yale Secondary featuring Jauqin Bennett-Boire and SFU commit JJ Pankratz are up next for St Georges. The key for the Saints will be to stop, or at least slow down the Lions in transition.
Stay tuned on NPH for more #BCAAA Boys basketball coverage.
NPH Top Performers
St Georges
Drew Urquhart – 26 points, 21 rebounds
Tylon Barker- 21 points, 12 rebounds
Claremont
Mason Loewen- 27 points, 7 rebounds, 5 assists
Caillum White- 21 points, 4 rebounds