"We're Not Going Anywhere" Tyus Allen, Sam Ykema Power WRCA to BC Provincial Semi-Final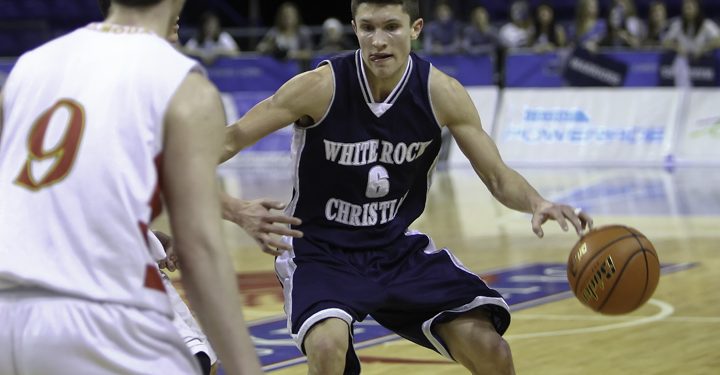 LANGLEY, BC–Resilient; the best way to describe the WRCA Warriors. Following an opening round overtime victory against Enver Creek, White Rock was in tough once again in their quarter-final meeting with WJ Mouat. With regulation time ticking away, Corey Hauck came up in the clutch scoring back-to-back crucial three-point shots sending this game to overtime.
Hauck tied a game-high 27 points, while Tristan Etienne contributed another efficient double-double of 25 points, 10 rebounds on 9 of 15 from the field.
However, the gritty Warriors lead by senior point guard Tyus Allen were able to hold Mouat to three points in the extra frame and seal the deal 72-69, advancing to the semi-finals of the BC AAA provincial championships.
Sam Ykema and Peter Spangehl were also instrumental in the victory contributing on both ends of the floor including efforts on defending a much bigger Tristan Etienne on the interior.
Ykema recorded 22 points and six rebounds, while Spangehl lead with a game-high 14 boards.
Allen, who was named player of the game, posted a double-double of 27 points, 10 rebounds and four assists on 8 of 16 from the field, while defending tenaciously on the other end.
"We're not going anywhere, we're here, I'm not quitting," Allen confidently stated in the post game. "It's going to be a hell of a game," he continued, while previewing the next match up.
Kitsilano is up next featuring Luka Zahirijevic, another inside presence that WRCA will have to deal with, who Allen feels they put too much emphasis on the last time they faced Kits.
In speaking with Allen, it was clear that there was a confidence about him, as he was not hesitant to speak what was on his mind and in his heart. No team in this provincial championship is here in Langley to claim the number two spot, and Allen expressed feelings in the team locker room.
"We're going to win this whole thing."
[youtube ENvjoRuH890]
NPH Top Performers
WRCA
Tyus Allen- 27 points, 10 rebounds, 4 assists
Sm Ykema- 22 points, 6 rebounds
Matt Perrin – 12 points
WJ Mouat 
Corey Hauck – 27 points, 5 rebounds
Tristan Etienne- 25 points, 10 rebounds