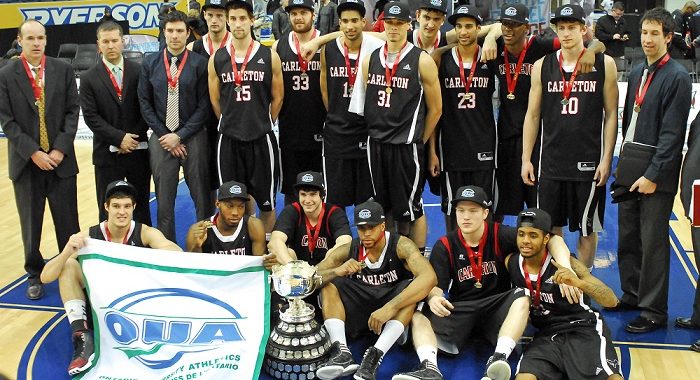 "The Season is Not Over," as Carleton Looks to Build on OUA Wilson Cup
TORONTO, ON – For the second consecutive season the Carleton Ravens are Ontario University basketball champions with a 72-69 victory over the Ottawa University Gee-Gees.
Carleton was led by the 17 points and nine rebounds from Wilson Cup Player of the Game and OUA Defensive Player of the Year Thomas Scrubb, while Ottawa's Warren Ward was the only player to finish with a double-double, accumulating 27 points and 10 rebounds.
OUA Player of the Year Phil Scrubb chipped in 15 points, and first-year Raven Clinton Springer-Williams poured in 15 points on 50 per cent shooting including three threes.
"The season's not over," said Thomas Scrubb. "In the next week and a half we'll prepare and finish out the season and then we'll get to enjoy ourselves."
Carleton was out-shot 42.4 per cent to 38.2 per cent by Ottawa, but dominated the rebound margin 40-28, and took advantage of their free throws.
The OUA title seemed locked up following a Springer-Williams tip-in with a minute remaining that put Carleton up eight, but Ward answered with two threes in the last minute to pull Ottawa within three points.
On the ensuing inbounds play, Carleton was called for a five-second violation giving Ottawa possession with 4.7 seconds remaining, but a Ward three rimmed out as Carleton survived for the win.
"We had a two or three minute breakdown in the fourth quarter that almost cost us the game," said Ravens forward Kevin Churchill. "We've got to do a better job finishing games and playing a full forty minutes."
As a result of placing in the top two of the OUA, both teams will play next weekend in the CIS Final 8 championship to be held at Scotiabank Place in Ottawa, joined by Lakehead who placed third in the earlier match.
"Our goal is the national championship," said OUA head coach of the year Dave Smart. "We've got to find a way to become more comfortable with the opportunities that we've gotten. We were freed up offensively against them a little more than we were our past matchups, but we've got to make shots."
Smart also credits the savvy play of Thomas Scrubb; "Oh yeah it's hard not to give him credit for what he's done and especially over the past five weeks people are starting to take notice."
Hosted at Ryerson's Mattamy Athletic Centre, it was the first time Ottawa and Carleton have met in a Wilson Cup championship game.
It was the Gee-Gee's first appearance in the Wilson Cup championship game in 20 years, while Carleton played its seventh consecutive Wilson Cup final, and 11th in 13 years.
"We've just got to continue working on defence," said Springer-Williams. "It's easy to adjust with guys like Phil, Tommy and Ty and I just go out there and play my role. It all kind of clicked today for us, but we've got to focus on defence and we'll be fine."
It must be stressed that Warren Ward was nothing short of spectacular for Ottawa, particularly in the fourth quarter where he spearheaded a run that almost stole the game from the #1-Ranked Ravens.
The Ottawa-Carleton rivalry continues as both teams head back home for the higher stakes of the national championship. Sparks will fly if these two teams meet again, which is a very real possibility.