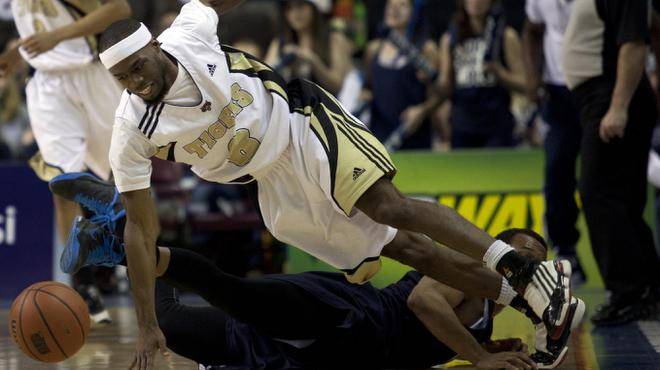 Upset Night in AUS, #6 Saint Mary's and #5 St FX Advance to Final 6 Semis
HALIFAX, NS–The AUS Final 6 as usual did not disappoint as it was an entertaining night of basketball at the Halifax Metro Centre.
The night cap game between #6 SMU and #3 UPEI was great in terms of player effort but not in terms of performance results throughout the first half. Mandrez Downey looked sharp as he dropped key shots to lead the UPEI attack with 10 points.
Harry Ezenibe who was coming off a knee strain had springs in his legs as he grabbed 12 rebounds in the first half with most of them being above the level of the rim. Riley Halpin provided the first half spark offensively by netting four of SMU's 11 FGS in route to 11 points giving SMU a 29-27 edge.
Coach Taussig said, "both teams missed shots and I think that can be attrributted to just how hard both teams were playing."
The second half started the same as the first half, then mid way through the 3rd quarter the teams erupted.  It was like someone hit start on the microwave and both teams just made shots.
Saint Mary's continued to roll into the fourth quarter and opened up a 56-43 lead with 8:24 remaining. Just as the game looked like it was going to send people to the exits early, Jermaine Duke a 5th year UPEI player took over. Behind his relentless rebounding and nice scoring touch, UPEI went on a 15-0 run to take a two-point lead 58-56.
Just as it looked like the pendulum had swung in favor of UPEI, 5th year player Miguel Pink made a contested three-ball to put SMU back on top. In the last three minutes Pink had three triples after going 0/8 early to lead SMU to a 67-66 win.
"I'm going to go in and make fun of him, the guy is 0/8 and makes three huge shots to help us get the victory," joked Coach Taussig.
NPH Top Performers
SMU  
Riley Halpin 16pts 7rebs
Jeremy McAvoy 11pts 2asts 2stls
Harry Ezenibe 9pts 16rebs
UPEI
Mandrez Downey 20pts
Deontay Smith 16pts, 11rebs
Jermaine Duke 13pts 11rebs
In the earlier game the #5 seeded St FX X-Men dropped the #4 seeded Dalhousie Tigers 74-70.
The tigers came out and jumped all over the X-men with an outstanding first quarter with 5 triples.  Dal was so on that Jarred Reid concluded the quarter with a 28 footer that was nothing but net giving them a 25-15 edge.
Dal was freed up for open looks due St FX looking to dominate the paint by giving a steady diet of 6-10 Rodrigo Madera. X did not rotate well defensively which freed up the 3 point line for Dal. In the second quarter St FX answered with sweet shooting forward Australian Shane Coupland nailing two quick threes to cut the Dal lead to 25-22.
With St FX guard Tyrell Vernon getting the X motor running in transition, they continued a strong second quarter run and outscored Dalhousie 25-12 to take a 40-37 half time lead.
The game of runs continued in the third quarter as the X-Men really stepped up their intensity and kept Dalhousie on their heals.  With a strong 2-3 zone the X-Men stifled the Tigers in the third quarter holding them to nine points in the frame.
In the fourth quarter it was the Tigers turn for a run as they forced the X-Men into rushed shots and turnovers. The 13-0 run was sparked by Kashrell Lawrences and Hassan Abdullahi aggressive play as they both dropped triples and played well off each other.
As it looked like the momentum had shifted 5th year forward Jeremy Dunn knocked down two huge threes, with one of them being a banked prayer at the end of a shot clock to give X a 69-62 lead with 2:18 remaining. William Yengue and Simon Marr made key baskets to make it 72-70 X with 40 seconds remaining.
Dal was scoreless over the last 40 seconds and X held on for an exciting 74-70 win.
NPH Top Performers
St FX  
Tyrell Vernon 17pts 7asts
Jeremy Dunn 17pts, 5rebs
Jordan Clarke 12pts, 4asts
Dalhousie
Hassan Abdullahi 20pts
Jarred Reid 16pts, 8rebs
Simon Marr 14pts, 9rebs
Semi Final 1 6:00pm Cape Breton Capers vs St Francis Xavier X-Men

Semi Final 2 8:00pm Acadia Axemen vs Saint Mary's Huskies