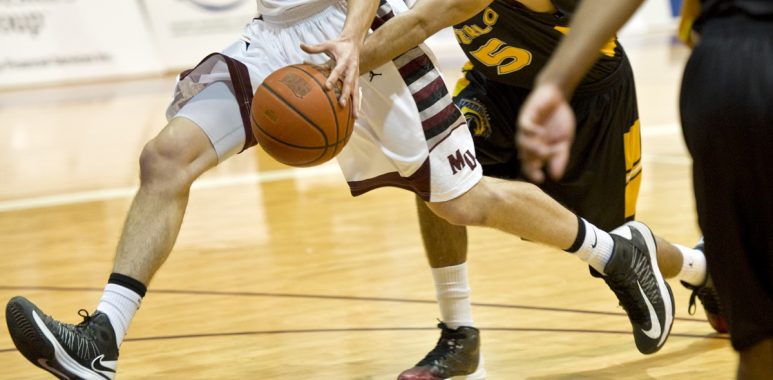 Joe Rocca Drops 27 to Lead McMaster over Waterloo in OUA QUarter Finals, Next Up… Lakehead
Hamilton, ON – The McMaster Marauders and the Waterloo Warriors squared off at MAC Wednesday night in an OUA Quarter Final game. Both teams had the look of "must win" on their faces as they tipped. The Warriors got hot early but the Marauders balance and ability to regroup would end the Warriors season dead in its tracks, as McMaster came away with an 82-60 victory moving on to the second round.
Basketball is a game of runs, and throughout the first half both teams had their opportunities. Defensively, neither coach was impressed with their overall effort, but it was the offensive side that Marauders Head Coach Amos Connolly was most concerned with.
"Our point guards weren't playing like point guards, we weren't running any offense and we weren't locked down defensively like we should be." Connolly told NPH after the game.
As the second half got underway, it seemed as if the light came on for the Marauders. Defensively Mac was able to lock down the paint, forcing the Warriors into long range attempts and late shot clock situations. Offensively things got rolling for Mac, when the inside game of Nathan McCarthy (14pts  11pts) and Taylor Black (13pts 8rbs) started clicking. The guards were getting into the key and looking for the rotations, and guys began knocking down shots. In the second half MAC shot 7-14 50 percent from the three point line, after shooting a dismal 17 percent in the first.
Joe Rocca (27pts 5rbs on 10-16 shooting and 6-11 from the 3pt line) was an assassin from downtown nailing four of his six shots from downtown in the second half.
Early into the third quarter the Warriors lost one of their most important players in Wells Davis as he went down hard and awkwardly on his knee. He needed help coming off the floor and left the gym for evaluation.
With the win, McMaster will make the long trip up to Thunder Bay to face off against the Lakehead Thunderwolves Saturday February 23 in one of the most difficult places to play in the league; the Thunderdome.
Both teams will be familiar with one another, as they just squared off this past weekend in a back-to-back at McMaster, in which they split the games.
Lakehead and McMaster both play a very similar up tempo, run and gun style of play. On paper they match up very well with guard play and post play. For both teams to win, it will come down to stopping the point guards Dwayne Harvey (Hamilton, ON) and Adam Presutti (Oakville, ON). Harvey and Presutti pose similar problems, both can hit the outside shot, and get drive in the key at will with lightning quick first steps. If you take the ball out of their hands and force someone else to initiate  the offense, it can disrupt the teams game plan.
The game will be played Saturday February 23 at 7pm and can be seen on www.ssncanada.ca
NPH Top Performers
Waterloo
Jaspreet Gill 21pts 4rbs
Mike Helsby 10pts
Wells Davis 9pts *played only 23min due to injury*
McMaster
Joe Rocca 27pts 5rbs 10-16 shooting 6-11 from 3pt
Nathan McCarthy 14pts 11rbs
Taylor Black 13pts 8rbs
Adam Presutti 11ast
Aaron Redpath 9ast
Tickets to the 2013 OUA Men's final four (Friday March 1, Saturday March 2) at the Mattamy Athletic Centre are available HERE.