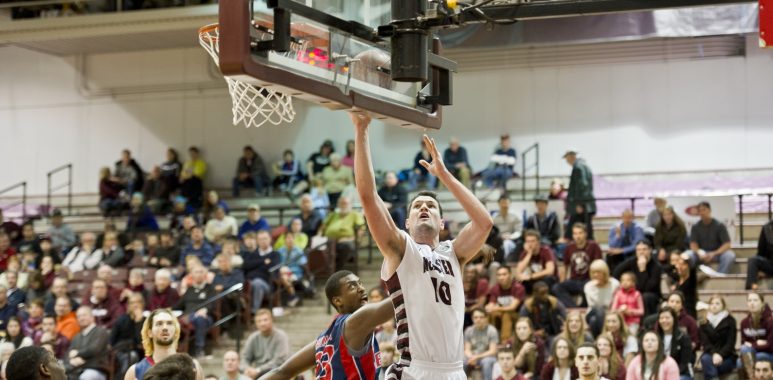 Taylor Black Scores 22 to Lead McMaster Over Brock, Issack Egueh Drops 19 in Loss
Hamilton, ON – Coming off a tough loss on the road to Windsor, the McMaster Marauders used the Brock Badgers as another bounce back game, picking up the victory 94-75 and moving to 8-7 on the season.
As the first half got underway, it looked as if it was going to be a tight back and forth game. Neither team had a lead bigger than eight points throughout, and both teams were taking what the defense was giving them.
Brock's Mark Gibson (16 pts 5 rbs) was allowed to shoot 6-11 from the field for 14 of his final 16 points in the first half, along with Issack Egueh (19 pts 6 rbs 5 ast) on 6-6 shooting, with 17 of his 19 points.
Entering the locker room at half, the mood on both sides was quite different. For the Badgers and Coach Brad Rootes they went in with momentum, scoring an uncontested lay up with seconds left. For Coach Amos Connolly and the Marauders, it was frustration and disappointment in the way his team defended late in the quarter, especially on the last second play.
However, in the second half McMaster picked up their defensive intensity and shut down the middle forcing Brock to settle for perimeter looks. Teammates were helping each other, making the proper drops, communicating, and forcing bad shots.
Coach Amos Connolly felt the change on the defensive end started with his point guard, Aaron Redpath.
"I had to challenge Redpath to commit on the defensive end. First half he let Egueh light us up for 13 points, he let him get anywhere he wanted to on the floor. Once Redpath started to commit, it rippled through the rest of the guys, we were forcing them to swing the ball, or make one pass and shoot."
In the second half the scoring torch changed hands from Joe Rocca (18 pts) and Scott Laws (13 pts) to Taylor Black (22 pts 8 rbs 5 ast) as he lit up the Badgers from just about every where on the floor. Knocking down back- to- back from distance, getting it inside, attacking to the hoop, and even running the break.
McMaster assisted 28 times for the game, compared to just 10 for Brock, and held the Badgers to 28 percent shooting. The Marauders got another game of balanced scoring as five players were in double figures. Taylor Black 22 pts Joe Rocca 18 pts, Scott Laws and Nathan McCarthy both with 13 pts, and Aaron Redpath 10pts 10 ast.
The Marauders will be back in action Wednesday January 30th as they head to face the Laurier Golden Hawks, and Brock will travel to Waterloo to face the Warriors.
NPH Top Performers
Brock
Issack Egueh 19 pts 6 rbs 5 ast
Mark Gibson 16 pts 5 rbs
Jameson Tipping 13 pts 7 rbs
McMaster
Taylor Black 22 pts 8 rbs 5 ast
Joe Rocca 18 pts
Scott Laws 13 pts
Nathan McCarthy 13 pts 11 rbs
Aaron Redpath 10 pts 10 ast