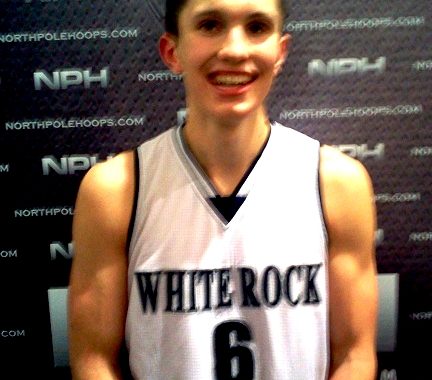 White Rock Playing Their Best Basketball, Racking Up Tournament Titles
VANCOUVER, BC–Another weekend, another tournament championship for the White Rock Christian Academy Warriors. Over the first three weeks of 2013 the Warriors have collected trophies at the Terry Fox Legal Beagle Invitational, the Surrey RCMP Classic, and now the Vancouver College Emerald Tournament. Along the way they've put together impressive wins over top ranked programs Walnut Grove, Tamanawis, Terry Fox, Oak Bay and Enver Creek.
Saturday's Emerald Tournament final was a rematch with the third ranked Walnut Grove Gators, and  the last time these two teams met – at the Legal Beagle finals just two weeks ago – we were treated to a double overtime thriller. White Rock started out slowly in this game, and found themselves down 43-33 at halftime. The Warriors have played a grueling schedule in the New Year – 17 games in 21 days to be exact – and, in the first half, it looked like all those games were finally starting to catch up with them.
However, White Rock came out in the second half with a renewed energy and quickly erased the 10 point deficit, taking a one point lead into the fourth quarter. The final ten minutes of the game were beautifully played, with both teams trading baskets and trading leads. In the end, White Rock –led by another MVP performance from point guard Tyus Allen—held on for a 75-70 victory.
Although the 6-0 Allen has deservedly collected MVP honors at all of the above mentioned tournaments, this is by no means a one man team. In fact, it's almost the opposite. White Rock has six seniors that play the majority of the minutes, with guards Corey Barker and Matt Perrin taking turns in the starting lineup or as the sixth man. The 5-10 Perrin is a streaky shooter, but has shown an ability to rein in his offence when his shot is not falling. However, when Perrin is on, especially from distance it opens up the court for the entire Warriors offence.
Earlier in the year we commented that White Rock lacked a consistent outside threat, but G/F Vartan Tanielian has been that, and more for the Warriors. Aside from being a deep threat, the 6-4 Tanielian is a capable ball handler –we even saw him at point guard for stretches when Tyus Allen was on the bench – a relentless rebounder on both ends, and a willing defender (he was named top defensive player at this tournament, an honor that both he and his teammates were clearly surprised by).
The starting lineup is rounded out by a pair of 6-4 forwards, Sam Ykema and Peter Spangehl, and both of these players are vital to White Rock's game plan on either end of the court. While they are often overmatched in terms of size by opposing big men or in terms of speed by opposing guards, the duo routinely take on toughest defensive assignments – whether that's on the low block, or on the perimeter – and more often than not, they do a fantastic job. On offense, you can find these two diving to the hoop for easy layups, setting screens on the perimeter, or stepping out for midrange jumpers.
Although they are currently second in the standings to Tamanawis in the Fraser Valley South West Division, and are likely to stay in second place in the provincial rankings behind Yale, this is a team that despite their star power, truly plays as a five man unit. And for the past three weeks, the White Rock Christian Academy Warriors have given us some of the best basketball that we've seen all year.