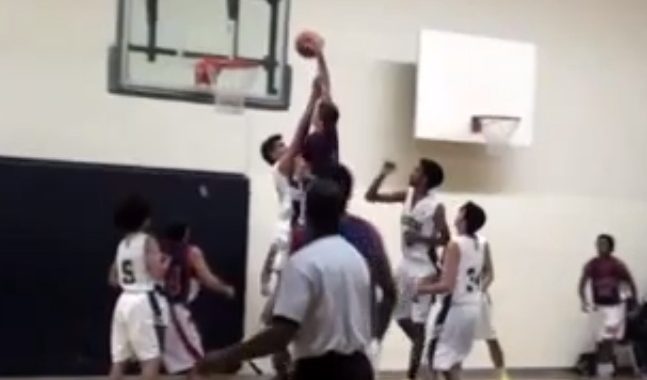 Cassidy Ryan POSTERIZES Defender, Vaughan Victorious in OT Thriller– Day Two Match Ups Are Set!
VAUGHAN, ON–A double overtime thriller is usually a great way to kick off a tournament.
The host Vaughan Voyageurs did just that, defeating Westview 58-57 using a team effort with multiple key contributors including Janath Utnayatumaran who lead the Voyageurs with 12 — Jawara Pedican, Chris Barrett, and of course Caldre Campbell who iced the game hitting a free throw for the one point edge.
Denis Mensah lead Westview with a game-high 20 points, including a big three point shot that sent the game into extra session.
Vaughan moves on to play Brampton Centennial.
Cassidy Ryan Abuses Defender
The following video will explain what Mount Carmel's Cassidy Ryan did on day one of the Vaughan Classic!
[youtube 83np0NbqcaE]
Day Two Match Ups
Game 9 – 9:00am – Consolation Quarters – Westview  vs. Downsview
Game 10 – 10:30am – Consolation Quarters – Jean Vanier vs. Vaughan Road
Game 11 – 12:00pm – Consolation Quarters – West Humber  vs. Richmond Hill
Game 12 – 1:30pm – Consolation Quarters – St. Elizabeth  vs. Pope John Paul
Game 13 – 3:00pm – Championship Quarters – Vaughan S.S. vs. Brampton Centennial
Game 14 – 4:30pm – Championship Quarters – St. Edmund Campion vs. St. Andrew's
Game 15 – 6:00pm – Championship Quarters – Mount Carmel vs. Sir Allan MacNab
Game 16 – 7:30pm – Championship Quarters – Crescent School vs. Martingrove
Day One Results
Vaughan S.S. 58  (Janath Utnayatumaran 12) Westview C.I 57  (Denis Mensah 20)
Downsview S.S. 47  Trivel Pinto 8 Brampton Centennial S.S. 69 Jamol Edwards 15
St. Andrew's College 54 (Chris Egi 25) Jean Vanier C.H.S 39 (M.Vicari 28)
Vaughan Road Academy 34 (Paul Blisset 8) St. Edmund Campion S.S. 66 (Kedar Wright 20)
Sir Allan MacNab S.S. 79 (Francis Kiapway 22) West Humber C.I. 38 (Malcom Heptbourne 13)
Richmond Hill H.S. 56 (Ali Validipak 19) Our Lady of Mount Carmel S.S. 68 (Cassidy Ryan 28)
Blessed Pope John Paul C.S.S. 45 (Tevoun Jackson 14)  Crescent School 59 (M. Simonetta, P Fournior 17)
Martingrove C.I. 69 (Connor Gilmore 23) St. Elizabeth C.H.S. 27 (Kevin Oppong, LJ Merced 6)