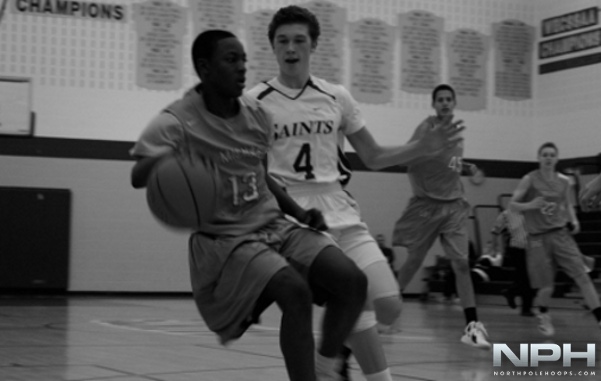 Godwin Boahen, Nelson Kaputo, Sage Usher & NPH #6-Ranked St Mike's Dominant on Day 1 of Freeds
WINDSOR, ON–The first game of the night indicated that the defending champions of this tournament, the St. Michael's Raiders, came in with a relentless intention of repeating after a massive win over St. Anne's 70-39. The #6 ranked team in the country played without their stud guard Malcolm Duvivier, who was out icing a minor lower body injury. Regardless, other guards stepped up both on the defensive end and were the major contributors on offense. Nelson Kaputo and Godwin Boahen both had stellar games, starting with the pressure that they enforced on St. Anne's guards in the man press. Sage Usher is also among the CIS prospects from this tournament.
Similar in the sense that they apply pressure and control the speed of the game is the Catholic Central Comets (Windsor), who have Mychal Mulder, Shavon Gayle and Marques Calloo who all are finishing up their high school careers in 2013. Mulder and Gayle are JUCO bound at this point and have ambitions of playing at the NCAA level following JUCO. They both display an unreal leaping ability, Mulder as a SG and Gayle as PG. The most improved aspect of Mulder's game has been his three point shooting which he was criticized for last year. He's spent a lot of time with the shooting gun and has become a much more accurate shooter from deep.
Gayle will use his JUCO years to continue making the full transition into an explosive guard at the one spot. Anyone recruiting Gayle can expect him to put on a show and posterize many victims. Moreover, he is a huge plus on defense coming up with steals in every game and blocking the shots of players at every position.
Calloo is a ready high CIS/low-mid NCAA prospect both skillfully and academically; with strong ball handling, ball speed and vision both in transition and in the half court set. He is able to create for himself by breaking down his defender and is especially good at finding and attacking gaps in the defense. From a scoring standpoint he is a solid perimeter shooter but needs to become stronger to absorb contact in the lane.
Other guards that have been on NPH radar are Daniel Dooley, Jordan Scott and brother of Grant Mullins (Columbia), Mike Mullins who all play for Notre Dame (Burlington), all of which are CIS caliber prospects and are scoring threats for the Fighting Irish at this time. I am eager to see how they match up against the Raiders today at noon. Dooley is a high IQ guard with good passing abilities has made great strides in every aspect of his game in the past two years. Mullins and Scott are both on point snipers which I look forward to learning more about in this tournament.
Mike Rocca is a PG playing for St. Christopher that CIS schools should be on. An extremely hard worker in training regiments as well as in game, he gives it all and has a very competitive mindset. Another NPH showcase alumni who really stands out in a crop of guards. Rocca is well conditioned and strong physically. He can score in a variety of ways and is a rebounding guard. There isn't a category on the score sheet that he wont help out in.
Forester also has the guard combination of William Caston and Jermaine Lynch who are scoring guards. They run with a team that is lacking size but they make up for it using speed. Lynch had a pleasing performance at our Windsor Showcase a few months ago, breaking down the D and hitting shots from all over.
Finally, perhaps the only CIS prospect at the forward position in this tournament is 6'6 2013 Small Forward, Jason Hawke of Banting (London). Although we have seen him on various occasions we are yet to detect his true strengths. What we can say for sure is that he is capable of knocking down elbow jumpers and aggressively goes after boards. More on this and other prospects will follow after tomorrow's championship day.
Below is the breakdown of the remainder of the tournament; to catch a live stream follow this link #Freeds.
Gold Medal Round

Game 17

Noon
Windsor Catholic Central
00
at CCH
Hamilton Cathedral
00

Game 18

Noon
Burlington Notre Dame
00
at HN
Toronto St. Michael

Game 25 Gold Championship

4:30
Team
00
at CCH
Team
00

Game 26 Consolation

4:30
Team
00
at Holy Names
Team
00

Silver Medal Round

Game 19

10:30
King City Villanova
00
at HN
Holy Names
00

Game 20

10:30
London Banting
00
at CCH
Forster

Game 27 Silver Championship

3:00
Team
00
at CCH
Team
00

Game 28 Consolation

3:00
Team
00
at Holy Names
Team
00