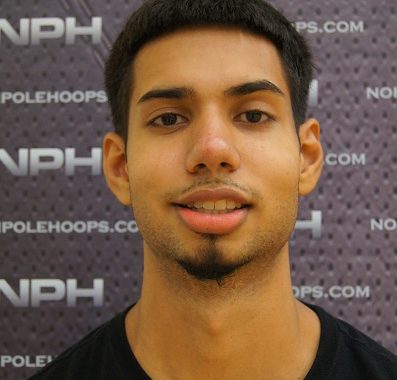 "I Made This Decision For Me" – Nick Madray Commits to Binghamton
MISSISSAUGA, ON–The 6'9 Forward strolls into the coffee shop with a look of innocence on his face that can be spotted from a mile away. Nick Madray walks in with a booklet that he is excited to share, which reads Binghamton Basketball.
That is correct. NPH #7-Ranked Canadian prospect is officially a Bearcat.
It came as a shocker to most (including myself) given that he was being recruited by programs with much higher allure– programs such as Boston College, and earlier in the game, Syracuse University.
Binghamton recruited Madray the hardest, brought every coach to watch his games, investing time in the Mississauga, Ontario product. And they got a steal.
"Everything was perfect. The location is close to home, the coaches, the opportunity to play…it's all there," Madray explained with confidence. "There is no football team so the basketball program has a lot of support behind it."
The 6'9 forward is extemely talented with a high ceiling, that most coaches know about. The key word here is potential. Madray could have ended up at a program with a bigger name, but he understands that it's all about the right fit.
"I know that I'm comfortable here; every day when I wake up I know that I made the right decision. I know that I'm not doing this for anyone else…I made this decision for me."
Take two examples of  Mississauga big boys…Andrew Nicholson and Ryan Wright. Nicholson went to what was considered a low-major school at the time in St. Bonaventure. Ryan Wright went to UCLA & then transferred to Oklahoma. Nicholson was the #19 pick in the NBA draft in large part to the development at St Bonaventure. There was no pressure…just an opportunity to play and get better. Wright was surrounded with a lot of talent playing with the likes of Blake Griffin and didn't have quite the same opportunity to shine.
Madray certainly used this knowledge in making his decision.
"I can come in…there is minutes on the table that I can earn; nothing is given but I think my hard work will pay off. I want to help turn this program around, with me and all the incoming players," Madray told NPH.
"Nick needs to play…he has all the skill in the world…he will have that opportunity at Binghamton," added Ashoak Grewal, former Head Coach at Stephen Lewis Secondary.
Binghamton became a division 1 program in 2001 and have made it to the big dance once, in 2009.
"I think we could make it back to the NCAA tournament very soon. We need to win the America East and we have an automatic bid. A lot of players never get to play in March, but we can potentially be there."
Prior to coming back to Canada [currently playing his final year at REDA], Madray attended Findlay Prep in Vegas, a high profile program where he played behind the likes of Anthony Bennett and other major prospects.
"My experience at Findlay was really good, practicing against really good players definitely helps you out. I was missing the game experience part which I received at Stephen Lewis, so I guess I got the best of both worlds."
Madray raved about the new coaching staff, speaheaded by newly hired Head Coach Tommy Dempsey, formerly of Rider. Dempsey brings a rock solid resume to Binghamton which includes an integral part in the development of Jason Thompson, currently playing for the Sacramento Kings.
"They have major expectations for me and I'm looking forward to meet them."
The Bearcats basketball community should be excited about this commitment…the future looks exciting.