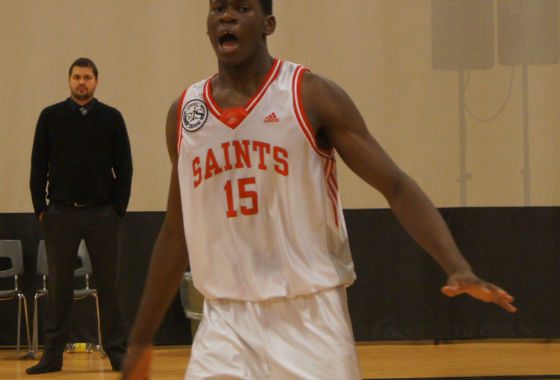 CAIS: Is St Andrew's The Team to Beat?
ST. CATHERINES, ON–Look out for St Andrew's.
While traditional private school powerhouse St Mike's currently holds NPH #6 National Ranking, SAC could be creeping up!
Add a few other CISAA programs in the mix, as St John's Kilmarnock and Crescent suit up talented rosters that look ready to compete with anyone in the country.
Lead by Chris Egi, NPH #1-Ranked 2015 Prospect in the nation, St. Andrew's will cause match up problems. However, the talent certainly does not end there. Daniel Cummings,  Tyler Plummer (2017 G), and Jordan Carter (2015 PG) will contribute with great consistency thanks to their combination of athleticism, length and shooting ability.
Also on the roster are multiple high I.Q players with the ability to knock down open shots, further strengthening the team's efficiency.
As I watched over eight hours worth of games and chatted with multiple teams and players throughout the day, it became evident that everyone wants a piece of St. Andrew's.
Following day one of the CAIS National Invitational hosted by Ridley College, seven teams remain undefeated; St Andrew's (Aurora, ON), SJK (Kitchener, ON), Crescent (Toronto, ON) St. John's Ravenscourt (Winnipeg, MB), Ridley College (St. Catharines, ON), Upper Canada College (Toronto, ON) and Ashbury (Ottawa, ON).
As the tournament progresses, the competition becomes tighter.  The margins of defeat will become shorter and the cream will rise to the top.
Who is the team to beat?
As of now, it looks like St. Andrew's.