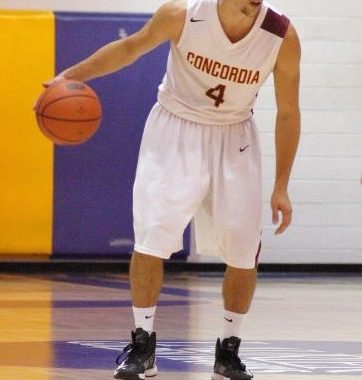 NPH CIS Preview: Concordia Stingers
Follow Charles Blouin-Gascon on Twitter @CeeeBG & NPH @Northpolehoops
Last season
| | | | | | | | |
| --- | --- | --- | --- | --- | --- | --- | --- |
| Overall | Pct. | Conf. | Pct. | Streak | Home | Away | Neutral |
| 14-2 | .875 | 14-2 | .875 | Won 4 | 7-1 | 6-1 | 1-0 |
Head coach: John Dore
Assistant coaches: Ernie Rosa, David Bloom, Mike Hickey
2011-2012 Record: 14-2 (RSEQ)
Key Players: Evens Laroche, Kyle Desmarais, Adam Chmielewski, Jerome Blake
Incoming Recruits:
Adam Chmielewski
Laurent FitzGerald
Gabriel Riche
Departures: Decee Krah, James Clark
If only the regular season could start a few weeks later, Concordia head coach John Dore would be happier. The RSEQ regular season kicks off the first week of November, right when the Concordia Stingers are depleted because of injuries. "Evens Laroche has just played his first game against the University of Vermont," Dore says.
Though Laroche will be ready for the opening game, third-year Zach Brisebois and fourth-year Taylor Garner will not as they are battling, respectively, a broken hand and an ankle injury. Dore says that, "The upside is that a lot of players are getting more playing time earlier than expected."
Dore starts the season behind the 8-ball, so to speak, but he just might be the one able to overcome such a challenge. He has as much experience as any other head coach for having been at the helm of the Stingers since the 1989-1990 season. Concordia also happens to be an experienced team, one that's a two-time RSEQ defending champion.
Then, there's the matter of Kyle Desmarais and Evens Laroche still being Stingers. The two are as good a duo as there is in the CIS, and Concordia will go as far as they take them.
Team leader Deece Krah and forward James Clark have graduated, but the Stingers will be just fine. "I think we could be better than we were last year," Dore says. "The challenge will be to get through the first half of the season."
For that to happen, key players must step up. Laroche must prove that he is every bit as good and healthy as he has been for the past two seasons, and young Adam Chmielewski must prove that he can replace Krah at point guard. Other key players are Jerome Blake, Morgan Tajfel and Kafil Eyitayo. "(Kafil) Eyitayo is very athletic," Dore says. "I think he will surprise a lot of people."
Team athleticism will be a strength, and Dore hopes it will help counter what is currently a lack of depth because of the injuries. But at full strength, the Stingers will be the formidable foe that they have been for two years now.
That's why Dore has only one wish for Christmas–"that we be 5-0 going in," he says. If the Stingers escape the first half to the season unscathed, good luck to the rest of the conference.
Like other coaches, Dore isn't fond of playing in the small RSEQ conference. "I'd prefer to play in an Ontario East conference. I think this would be better for basketball, better for the athletes, better for the coaches and better for everything," he says. "The good thing about playing in a small conference? There's very little traveling."
But Dore hopes the team will travel a bit further after the regular season and playoffs are done. "We think we have a chance to win the Quebec conference," he says, "but the other schools probably think so too."
Not that the CIS Final 8 will be held far from the Concordia campus–they're in Ottawa, at most two hours away.