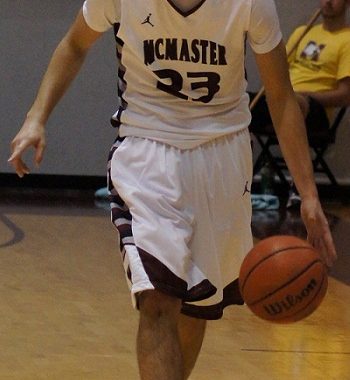 McMaster Marauders Roll On, Squeeze by Cape Breton Despite Shaq Keith Highlight Show
NPH Top Performers
McMaster
Aaron Redpath- 25 points, 4 rebounds, 8 assists
Joe Rocca- 14 points
Nathan Pelech- 14 points, 5 rebounds
Taylor Black- 12 points, 3 rebounds
Rohan Boney- 5 points, 7 rebounds, 3 assists, 2 steals, 2 blocks
Cape Breton
Shaq Keith- 21 pts, 7rbs, 4ast, 2stl
James Dorsey- 21 pts, 5rbs, 6ast, 6stl
Meshack Lufile- 12pts, 14rbs, 2blks
HAMILTON,ON–The Cape Breton Capers have outright some of the most exciting talent in the country with freshman Shaq Keith and Senior James Dorsey highlighting the roster. However on this night, McMaster's execution trumped CBU's highlight show, as the Marauders pulled out the victory at home 79-74.
McMaster was without star point guard Adam Presutti (sprained ankle), yet multiple contributors stepped up to fill the void. Aaron Redpath lead the way with a game-high 25 points to go along with eight assists. Joe Rocca, Nathan Pelech and Taylor Black added 14, 14 and 12 respectively.
For Cape Breton, Keith and Dorsey lead the team with 21 apiece, while Meshack Lufile registered a double-double of 12 points and 14 rebounds.
The Marauders lead by 16 entering halftime, but the Capers had some big runs in the fourth quarter inspired by first year Head Coach Matt Skinn who rallied the troops, bringing energy from the bench. On the floor, it was reigning AUS MVP James Dorsey who came up with multiple steals which lead to easy dunks in transition for Keith.
The Capers have an interesting collection of personalities; a young core, with some veteran leadership from Dorsey. They will be as successful as they want to be, but will naturally have some growing pains with regards to building team chemistry.
CBU completes their Ontario tour with a 2-1 record, while McMaster moves to 4-0 on the pre-season compiling multiple impressive victories. The Capers will compete in the St Francis Xavier invitational this weekend.
McMaster's next opponent will be a test as they take on UBC Thunderbirds at the Honda Way Tournament hosted by Fraser Valley.
Shaq Keith vs. Rohan Boney
A very interesting match up was between two of the top freshman in the CIS, Shaq Keith and Rohan Boney. Keith was the NPH #15-ranked prospect in the nation coming out of the 2012 class, and the truth is, he could've been higher. Boney was ranked at #24.
Rohan guarded Shaq, and Shaq guarded Rohan…that was great to see. Boney got the best of Keith in the first half as he blocked multiple shots and made him uncomfortable on the perimeter due to his length and athleticism. To Keith's defence, it was the Capers' third game in three days (Ryerson, Brock, McMaster).
In the second half, it was all Shaq as he put on a show, displaying great ball handling, speed and athleticism. He is currently a nightmare in transition and will be terrorizing the CIS for years to come as he continues to develop.
If you haven't already caught on, Keith is a special talent, that makes the game look easy. On the other hand, Boney a little less polished, but is a player that produces on every night and fills the stat sheet. Both possess great upside, and it will be a joy to continue watching them grow.