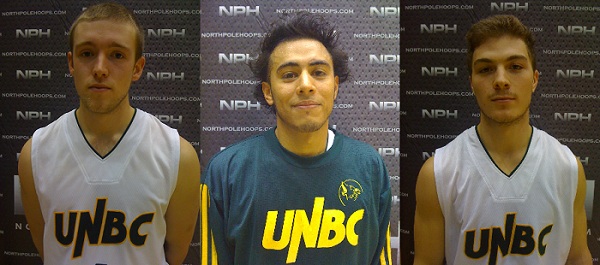 UNBC's Chemistry and Verteran Leaderhip On Display, Steamroll Past UQAM
NPH TOP PERFORMERS
UNBC
Francis Rowe- 22pts, 2rbs, 3ast
Jose Araujo- 21 pts, 7rbs, 2ast
Joel Rybachuk- 16pts, 3rbs, 7ast
UQAM
Alan Pivovar- 12pts, 2rbs
WATERLOO, ON–The UNBC Timberwolves are making great strides early on in the program's first year in the CIS, compiling a 2-1 record at the Naismith tournament. In their final game, the veteran squad put the hurt on UQAM out of the RSEQ conference in Quebec, defeating them 94-53.
At first glance, you may over look the team representing Northern British Columbia due to a clear lack of size, in comparison to the rest of the league.
However, what one may also overlook is the amount of chemistry and veteran leadership that the team possesses with winning experiences and multiple trips to the CCAA national championships.
"It's such a great group of guys to coach, they play together and we might not look like the most intimidating team starting 5'8 and 5'10 at the guard spots but they learned about spacing, finding open shots and we're a pretty good shooting team," UNBC Head Coach Todd Jordan told NPH.
UNBC opened up a 20-point lead in the first half and never looked back. Overhearing the bench as the second half opened, Joel Rybachuk (5'8 Senior PG) spoke out in the huddle "we have them right now, lets step on their necks and end this."
That they did. With multiple contributors throughout the game , the Timberwolves were in cruise control. Francis Rowe registered a game-high 22 points, while Jose Araujo poured in 21 point of how own.
Rybachuk did a great job of scoring, distributing and providing energy, posting 16 points, three rebounds and seven assists.
For UQAM, it was a tough night from the field, to say the least shooting a forgettable 30%. Alan Pivovar lead the Citadins with 12 points.
Next weekend, UNBC will have a tough test as they will use Lakehead as a measuring stick for where they stand. Lakehead is once again expected to be among the top teams in the nation.
For now, the Timberwolves will enjoy a couple of wins and continue pre-season preperation.
Tournament All-stars
Tremaine Fraser (Waterloo)
Kyrie Coleman (Waterloo)
Raheem Isaac (York)
Alexandre Bernard (UQAM)
Joel Rybachuk (UNBC)
Tournament MVP