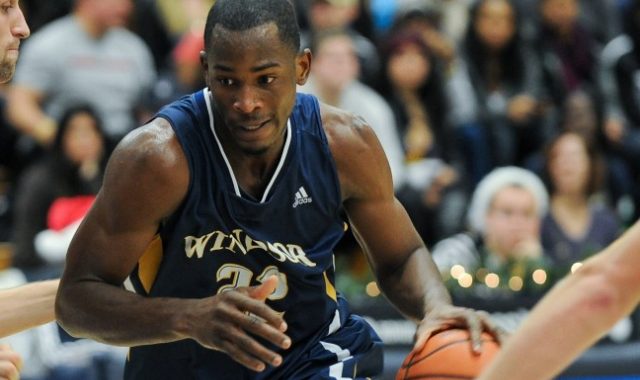 Calgary Cup Preview: Windsor Lancers An Early Favourite?
Calgary Dinos vs Western Ontario Mustangs – 8 pm at U of C –
Calgary will want to advance against UWO, but will have to get the leadership from Jarred Ogungbemi-jackson, third year point, and his guard partner, Josh Owen-Thomas, who spent the summer with the British Junior Nats. Up front, Calgary may be a little thin, but will count on the 'slinky' moves of Youri Anissovets, their only 5th year player, and 2 new faces in Aneclet Mbayi, a strong post man from Montreal, and Thijin Moses, a Calgary HS product with a very long reach. The UWO Mustangs boast 3rd year shooter, Peter Scholtes, who averaged 16 ppg last season, along with point man, Quin Henderson, who takes over from All-OUA Ryan Barbeau (24 ppg), who is now off playing pro in Europe. Coach Brad Campbell suggests that, "We're going to have to have (Scholtes) score quite a bit, but we really need a second, third and fourth guy to come forward and put some points on the board for us."
Saskatchewan Huskies vs SAIT Trojans – 4 pm at MRU –
The Huskies have been a power in Canada West for the past several years, and they shouldn't have trouble with the Trojans of the Alberta Colleges loop. The Dogs have another U.S. JUCO point guard, Stephon Lamar, from San Diego City College, who comes with excellent credentials as a league MVP last season. Coach Barry Rawlyk will also count on Matthew Forbes, a second year post, and senior forward Patrick Burns. Ex-Dino Brad Clark has a shot at some floor time, as the Huskies lost top big men last season. SAIT Coach Mike Stevens says, "We have a deep team, with little drop-off between #1 and 15." Two returnees, Ajay Sihota and Paul Ohlinger are quality shooters, and new recruits, Alex Auer and Scott Watmough should help on the glass.
Mt. Royal Cougars vs Windsor Lancers – 6 pm at MRU –
The CIS debut for the hometown Cougars, and they have a tough opening game against a Windsor team who were 15-6 in the OUA West in 2011-12, and are returning 10 players including Lien Phillip, a 6-8, 4th year forward, who led the OUA rebounders last season with 12 rpg. The Mustangs also have lead guard, Josh Collins, who produced six assists, and Michael Petrella, a 5th year guard is an outstanding 3 point shooter. For MRU, it will be a big test on the boards, with 6-6, 5th year captain, Nick Loewen their biggest forward. Bishop O'Byrne's Matt Matear may lend a hand, as the 6-3 rookie can mix it up inside. Another first year man, Noah Lewis from Comox, BC is impressing at the guard spot along with third year stand-out Awet Abraha (McNally, Calgary).
UBC-Okanagan Heat vs Brock Badgers – 6 pm at U of C –
New UBC-O Head Coach, Pete Guarasci, comes from Grant MacEwan U. (Edmonton) to a second year CIS school with hopes of improving on a 3-15 mark last season. The Heat have high scoring guard Yasine Ghomari (17 ppg), guard Bret MacDonald, who had 9 ppg and 2 assts., and Ed Dane Medi, a 6-4 wing man, who led them in rebounding, with 6 rpg. Landry Ndayitwayeko is a 6-3 transfer from Lakeland Coll. who had 11 ppg/ 5 rpg, while Anwar Faza had 13 ppg, 7 rpg at Grant MacEwan Coll. The Brock Badgers are coached by Brad Rootes who was the 5th year, All-Canadian point guard in 2008 when BU won a CIS title. He hasn't had the same success in his first 3 years as the Head Coach, but did get the Badgers to the playoffs for the 1st time in 4 years in 2012. Brock is coming off a 10-12 season last year, but has nine returnees including Jameson Tipping, a 6-7, 3rd year wing man, who led their scoring with 16 ppg., plus Mark Gibson, a 6-6 forward, who grabbed 6 rebounds per game, and Brian Nahimana, a 4th year, 6-10 post, who shot 56% from the floor.